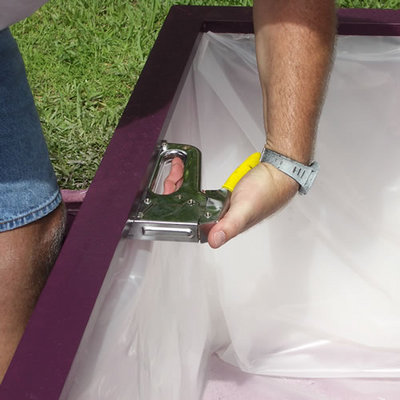 We recommend to put line on our line of planter boxes, raised bed, it will help to maintain and prolong the life of the container in outdoor. Especially those made of willow, and bamboo material.
After you have setup the planter or raised bed, then you would need to get these material ready for liner installation,
A pair of scissors, staple, staple gun, measure tape.

You would need enough material of 6-mil plastic (either clear or black is fine). Calculating by adding the areas of 4 sides walls and the bottom of the planter or raised bed. You can attach the plastic by stapling it to the very tops of the side walls (just under the top trim). The easiest way to complete this task is to carefully center the plastic over the top of the box. Then tack one edge of the plastic all along one side with staples. Push the plastic down into the box, laying enough plastic to cover the side, bottom and opposite side. Then, staple the plastic into place.
Make sure you cut at least 6 drainage holes at the bottom of the plastic sheet, so the water can drain through the drainage holes of the planters.