Related Products
Up
Curved Top Bamboo Panel
Framed Bamboo Panel
Wood Framed Bamboo Fence
Big Pole Bamboo Fence Panel
Lattice top Board Fence
Bamboo Lattice Fence Panel
Misugaki Bamboo Fence Panel
Bamboo Theme Fence
Black Bamboo Fence Panel
Bamboo Branch Fence Panel
Black Bamboo Misugaki Fence
Fence Post & Acessories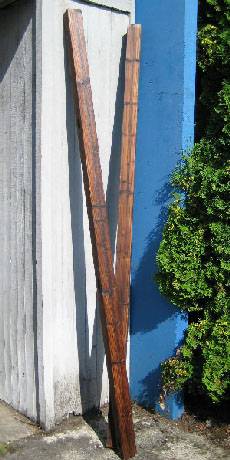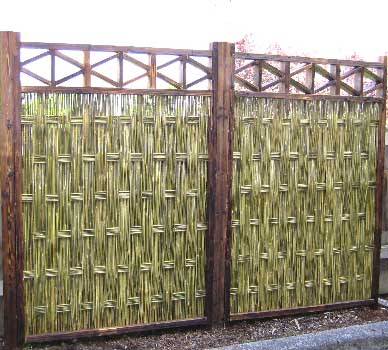 Cedar wood fence posts CFP Bamboo fence 4'W x 6'H installed on the CFP fence post

We offer matching cedar wood fence post to go with the our bamboo fence panels, they have the same torched finishing as our fence panels, it is 7.5' or 5.5' height, they are good for installing 4', and 6' height fencing with extra 18" footing for securing into the ground. The CFS series cedar wood stake is good for installing low fences and bamboo border edging.
The bamboo caps and half split stringer is for finishing bamboo fencing if you are using the our rolled fencing or bamboo poles to construct your own fence. Wire tie and tools are also available. Fence posts installation is available for our fencing.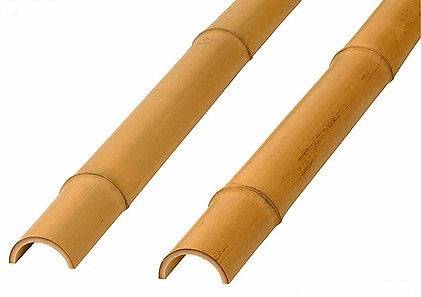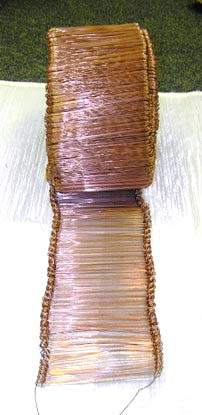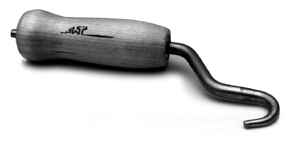 Bamboo Cap BFC Half Bamboo Caps BSC copper wire tie TT-8, tying tool
Key features
No chemicals. Traditional Japanese outdoor preserved cedar fence post to install our bamboo fence products.

Rustic antique brown finish cedar post to match our bamboo fence panels.

Post allow 18" in ground secure installation.

Put a finished touch to your DIY bamboo fencing projects with our bamboo caps and stringers.
Pricing & Purchase
| | | | | |
| --- | --- | --- | --- | --- |
| Item | Description | Price | Sizes | |
| CFP-90 | Antique brown cedar post, 90" H | $23.23 + shipping | 3.25"D x 90"L | |
| CFP-66 | Antique brown cedar post, 66" H | $17.51 + shipping | 3.25"D x 66"L | |
| CFS-48 | Antique brown cedar stake, 48" H, 6/bundle | $4.71 + shipping | 1.5"D x 48"L | |
| BSC-02 | Split half Bamboo Cap for molding, 1.5"-2" diameter. | $10.83 + shipping | 1.5"-2"D x 8'L | |
| BFC-06 | Natural Bamboo Cap for fence top, 1.5"-2" diameter, 3/4" opening. | $15.63 + shipping | 1.5"-2"D x 8'L | |
| BSC-03 | Split half Bamboo Cap for molding, 2"-2.5" diameter. | $13.33 + shipping | 2"-2.5"D x 8'L | |
| BFC-07 | Natural Bamboo Cap for fence top, 2"-2.5" diameter, 1 1/2" opening. | $22.63 + shipping | 2"-2.5"D x 8'L | |
| BFC-07B | Black Bamboo Cap for fence top, 2.5" diameter, 1 1/2" opening. | $29.33 + shipping | 2"-2.5"D x 8'L | |
| BSC-03B | Split half Black Bamboo stringer, 2.5" diameter. | $16.63 + shipping | 2"-2.5"D x 8'L | |
| BFC-06B | Black Bamboo Cap for fence top, black color, 1.5" diameter, 3/4" opening | $22.33 + shipping | 1.5"D x 8'L | |
| BSC-02B | Split half Black Bamboo stringer, black color, 1.5" diameter. | $14.63 + shipping | 1.5"D x 8'L | |
| DLW-12 | Copper double loop tie wire, bundle of 100 wire | $5.54+ shipping | 12"L | |
| DLW-16 | Copper double loop tie wire, bundle of 100 wire | $6.54+ shipping | 16"L | |
| DLW-24 | Copper double loop tie wire, bundle of 100 wire | $7.54+ shipping | 24"L | |
| TT-8 | Hand tying tool | $9.84+ shipping | 8"L | |