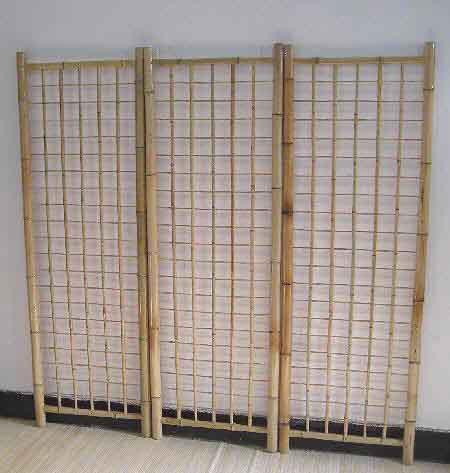 Bamboo Gridwall Panels 3xBGP-06 Bamboo lattice fence BWT-36
Our popular framed bamboo lattice fence are pre-assembled and are versatile in the bamboo garden fencing designs. It can be set up easily by tying them together with a galvanized wire. The frame is made of heavy 2" bamboo poles and 1/2" bamboo poles make up the trellis section. Two different pattern to choose from, the square and the diamond trellis opening in the middle.
Bamboo flex trellis fence are flexible and are opened to many uses such as using it as a trellis, fence, gate, border divider, or just for decorative purposes. They are perfect for training vines and vegetables, supporting tomatoes, and more. Place them vertical or horizontal for various uses in the garden. We have many sizes to suit different functions in your garden. The bamboos used are wholes bamboos about 1/2" to 5/8" thick that are linked together with sturdy aluminum rivets. Flex trellis fence is good for pet fencing, because the opening can be adjust so your pet cannot get thorough.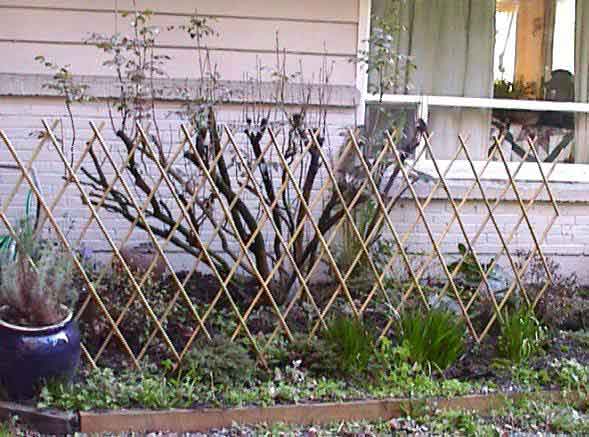 Bamboo flex trellis fence
Key Features
Frame bamboo lattice fence provide finished look and is inexpensive.

Flex bamboo fence using aluminum rivets prevent unsightly rust.

Flexibility is expanding and folding to various lengths and height for your needs in the garden.

Use vertically as trellis for climbing flowing vines up to 10' or more height.

Use horizontally as fences, gates, or flowering bed borders.

Bamboo are rapidly renewable materials, they are harvested every two to three years in general, which results in less stress on our environment.
Pricing & Purchase
Item

Description

Price

Size

BFF-36

Flex Whole Bamboo Poles Lattice with aluminum rivets

$14.24
+shipping

72"'L x 36"H

BFF-48

Flex Whole Bamboo Poles Lattice with aluminum rivets

$18.81
+shipping

72"'L x 48"H

BFF-71

Flex Whole Bamboo Poles Lattice with aluminum rivets

$21.52
+shipping

72"L x 72"H

BWT-36

Framed Bamboo Lattice Panel

$75.37+shipping, please contact us or call for discounted freight for 4 panels & over shipping,

36"W x 72"H

BWT-63

Framed Bamboo Lattice Panel

$75.37+ shipping, please contact us or call for discounted freight for 4 panels & over

72"W x 36"H

BGP-07

Classic Bamboo Gridwall Panel

$56.32 + shipping,

24"W x 84'H

BGP-06

Classic Bamboo Gridwall Panel

$48.22 + shipping

24"W x 72'H

BGP-05

Classic Bamboo Gridwall Panel

$41.54 + shipping

24"W x 60'H

BGP-36

Classic Bamboo Gridwall Panel

$67.32 + shipping

36"W x 72'H