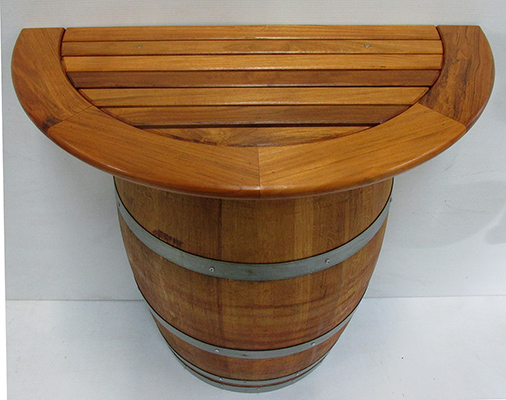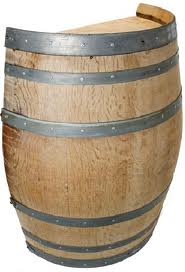 SBP-26TP, Lacquer finished barrel stand with optional teak table top SBP-26T, Natural standard barrel stand
We recycle these wonderful used wine barrels and reuse them in a variety of ways. Our whole or split barrels are very popular as decorations as well as practical uses in places such as a bar or restaurant, or in your very own home. Split barrels are great to be put against the wall, or around any corners, or areas with limited space. You can choose eithet the standard or the slim cut stand for tight space like the hallway.
Click here to learn more about wine barrel care, maintenance, and procedures on how to use them.If you are interested in how barrels are made, This is how the barrel is made.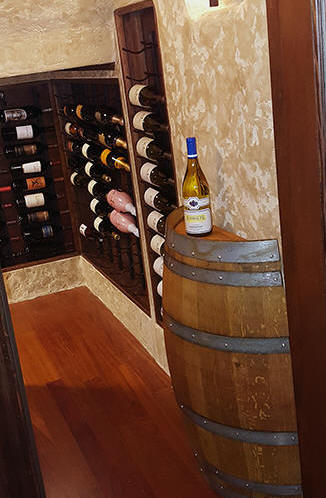 SBP-26TSP, Lacquer finished Slim barrel stand on a hall way.
Key Benefits
These are genuinely used wine barrels as oppose to the rusty whisky barrels sold in large home centers. You could still see the red wine stain inside and the smell of wine.

The wine seasoned interior of our barrel planters make them more resistant to rotting than any other new wood barrel planters in the market.

Standard or slim cut for tight space.

Elegant perfect round barrel body design, with three bands of galvanized steel strapped around the planter. The straps are pegged onto the barrel wall to prevent them from sliding down.

Split barrels are ideal for tight corner spaces against the wall or around any corner. Great for your home and business.

Each individual item's appearance and color tone may vary due to the reclaimed barrel material used in the product.

Optional teak wood table top for more counter space.
Pricing & Purchase
| | | | | |
| --- | --- | --- | --- | --- |
| Item | Description | Price | Sizes | |
| SBP-26T | Oak wood Split Wine Barrel Stand. | $138.21+ shipping | 26"W x 35"L x 13"D | |
| SBP-26TP | Oak wood Split Wine Barrel Stand, Gloss Lacquer Finished | $158.18+ shipping | 26"W x 35"L x 13"D | |
| SBP-26TS | Slim Oak wood Split Wine Barrel Stand. | $124.54+ shipping | 26"W x 35"L x 8"D | |
| SBP-26TSP | Slim Oak wood Split Wine Barrel Stand. Lacquer Finished. | $144.54+ shipping | 26"W x 35"L x 8"D | |
| TT-18 | Half round Teak wood table top, tung oil finished. | $128.25+ shipping | 36"W x 17.5"D x 1" thick | |