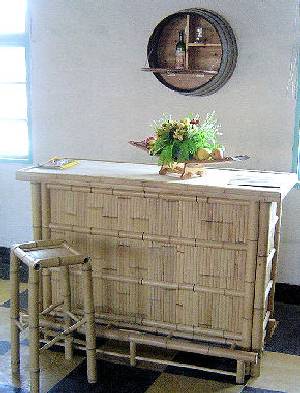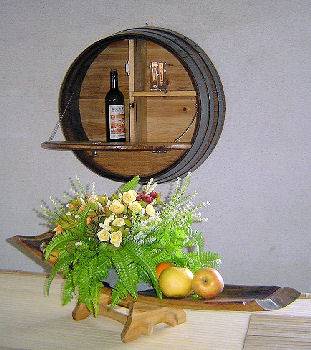 Barrel head bar above our Bamboo Bar Counter Barrel head bar hang on the wall
After the oak tannic has been extracted by the wine from the barrel, this oak wine barrel head has been given new life as a wall mounted bar cabinet. The used barrels are sand cleaned, kiln dried, and then carefully handcrafted into a mounted bar cabinet. It is constructed with recycled oak wine barrels accompanied with cedar wood shelves. Installed with stainless steel hinges and finished with lacquer.
Our barrelhead bar cabinet features built-in shelves to store your favorite wine or liquor; a nice center piece in your wine cellar or home entertainment room. Size is 26"W by 9" H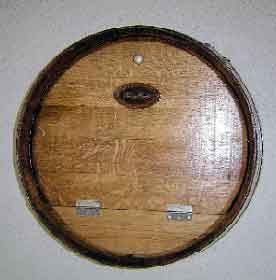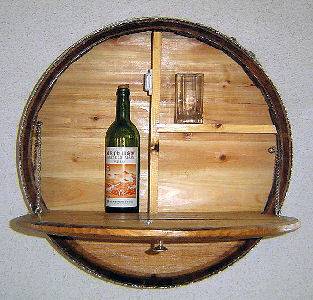 Barrel head bar closed Barrel head bar opened
Key Features
Barrel head bar cabinets are handcrafted from genuinely used French oak wood wine barrels.

Great recycled products for your home or business, cut to 9" in depth, perfect for hanging on the wall or made into a wall mounted bar.

Beautiful old age wine stained tone with gloss lacquer finish for indoor use.

Stainless steel hinges.

Each individual item's appearance and color tone may vary due to the reclaimed barrel material used in the product.
Pricing & Purchase
| | | | | |
| --- | --- | --- | --- | --- |
| Item | Description | Price | Sizes | |
| WBB-14P | Wine barrelhead bar cabinet, lacquer finish | $182.79 + shipping | 25"W x 9"D | |