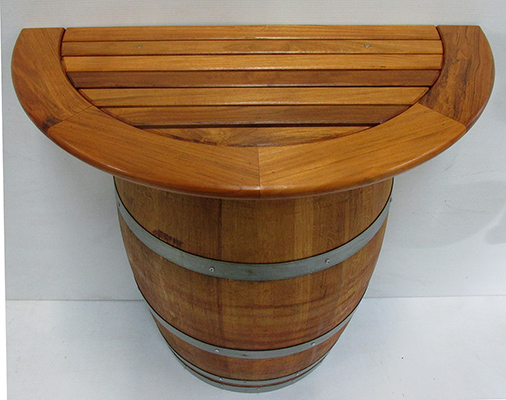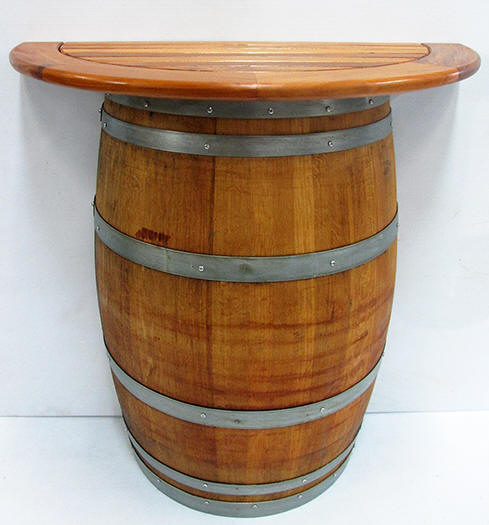 CTT-26, Lacquer finished basic barrel Console Table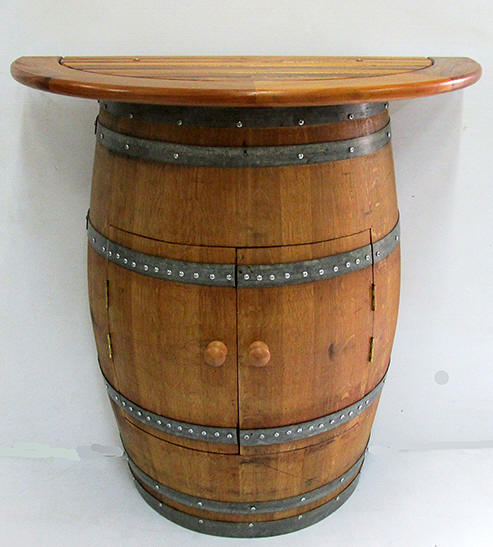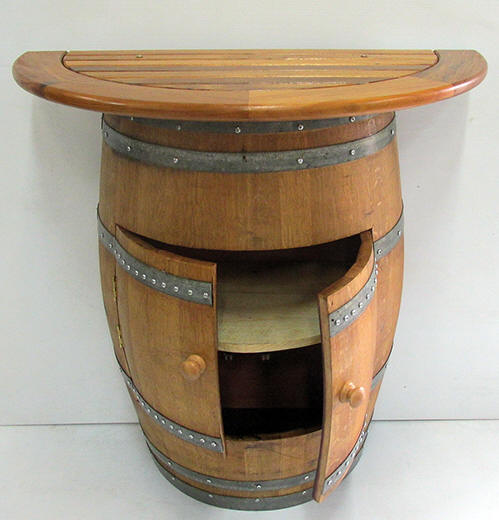 CTT-26C, Lacquer finished Console Cabinet Table with door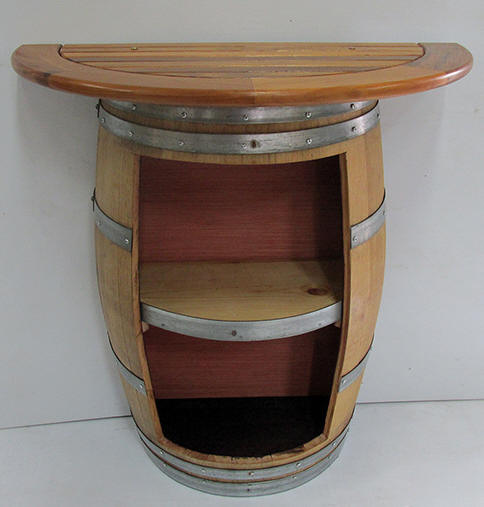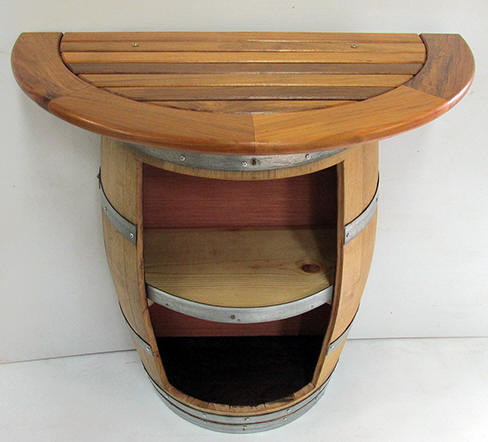 CTT-26S, Lacquer finished barrel Console Table with shelves.
Rustic used oak wood barrel are handcrafted with teak wood half round table table top make this a unique and eye catching console table for your home and business. They are available in three different designs, basic stand, open shelf, and cabinet style. They are very popular as decorations as well as practical uses in places such as a bar or restaurant, or in your very own home. Barrel console tables are great to be put against the wall, or around any corners, or areas with limited space.
Click here to learn more about wine barrel care, maintenance, and procedures on how to use them.If you are interested in how barrels are made, This is how the barrel is made.
Key Benefits
Designed and built in our MGP workshop in the Pacific Northwest with genius used wine barrels from local souces.

Premium teak wood table top from plantation teak in Indoesia.

Console table are excellent for hallway, or against the wall in any room in your home and business.The straps are pegged onto the barrel wall to prevent them from sliding down.

Available in there designs, the basic table stand, table with shelf, cabinet style console table.

Each individual item's appearance and color tone may vary due to the reclaimed barrel material used in the product.

Natural Tung oil for chemical free finished on teak wood table top, lacquer finished on oak wood barrel stand.

Teak wood table top dimension 36"W x 17.5"D x 1" thick. Barrel stand dimension 26"W x 35"L x 13"D.
Pricing & Purchase
| | | | | |
| --- | --- | --- | --- | --- |
| Item | Description | Price | Sizes | |
| CTT-26 | Basic Wine Barrel Console Table with teak wood table top. | $288.21+ shipping | 36"W x 36"H x 13"D | |
| CTT-26S | Wine Barrel Console Table with teak wood table top with shelf. | $358.18+ shipping | 36"W x 36"H x 13"D | |
| CTT-26C | Cabinet Style Wine Barrel Console Table with teak wood table top. | $458.21+ shipping | 36"W x 36"H x 13"D | |