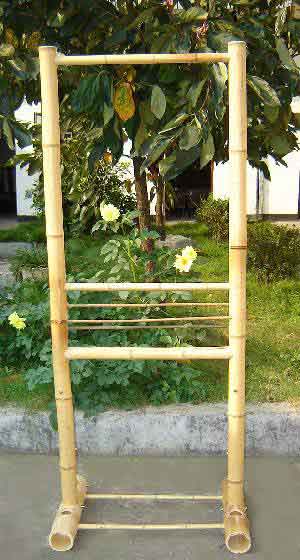 BPS-63
This bamboo frame poster display is one of our most popular items. This natural bamboo frame floor stand includes a five-pocket or ten-pocket literature rack on one side! The bamboo brochure attachment has removable peg dividers allowing you to configure the standard 4" wide brochures, 8 1/2" flyers or a combination of the two. Simply slide the posters and protectors down into the grooves of this bamboo display rack, then load the front compartments with your brochures. Easy to change posters, with out the use of tools. Choice of either regular or black bamboo.
We offer our poster stand to hold three standard size posters. Large 24"W x 36"H, medium 22"W x 28"H, and the small 18"W x 24"H, viewable poster area runs one inch less in length and width (allows for a 1/2" border around your poster). The frame attaches simply to the base with 4 screws provided.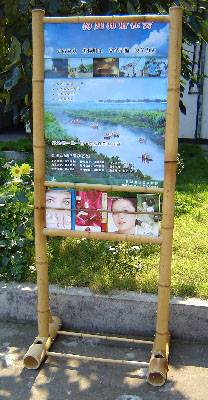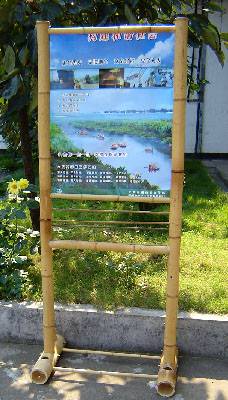 Bamboo poster stand with brochure rack
Key Benefits
Crafted with ecologically sustainable bamboo poles.

Holds large 24"W x 36"H, medium 22"W x 28"H, and the small 18"W x 24"H posters sizes.

Easy poster set up.

Choice of either black or regular bamboo.

Finished with one coat of semi-gloss polyurethane to enhance its appearance as well as for extra protection.

Unique bamboo poles designed to catch your customers' attention.
Pricing & Purchase
| | | | | |
| --- | --- | --- | --- | --- |
| Item | Description | Price | Sizes | |
| BPS-72 | Large bamboo poster stand, holds 24"W x 36"H poster | $198.18 + shipping | 28"W x 72'H | |
| BPS-63 | Medium bamboo poster stand, holds 22"W x 28"H poster | $158.27 + shipping | 26"W x 67'H | |
| BPS-24 | Small bamboo poster stand, holds 18"W x 24"H | $135.23 + shipping | 22"W x 63'H | |
| BPS-63B | Medium black bamboo poster stand, holds 22"W x 28"H poster | $176.17 + shipping | 26"W x 67'H | |