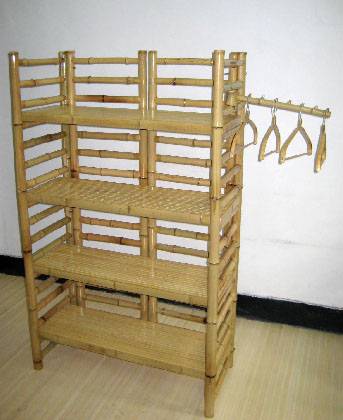 bamboo expandable shelves rack 2 pairs of stand & 4
shelves
Displays for trade shows and craft shows are made so much easier with our bamboo expandable modular display units! This natural and unique looking bamboo modular unit can be arranged in many different shelving combinations which will allow you to add in more display area as your home or business needs to grow.
The shelf system is constructed entirely of a natural bamboo ladder rack and shelves at varying heights and lengths. You can purchase a combination of racks and shelves to create your own customized bamboo display unit. Perfect for retail stores, showrooms, special showcases for promotional events, or at home in your den or living room for all your pictures, books, decor, and stereo equipment. Assembly is required.
The bamboo stand is offered in a pair, usually you need two pairs of ladder stands and shelves to form a basic unit. Purchase as many stands and shelf racks as you need for you home or business.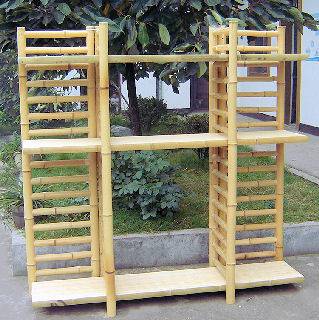 2 pairs of 60" H stand w/60" L shelves in an open stand Similar components but different set up
Key Features
Great for trade show displays, and as organizers in dorm rooms and apartments!
Bamboo is ecologically sustainable, it also provides an exotic natural look to your display design.
It comes in a modular unit, and is easily expandable as your display area grows.
Many different shelving combinations for various functions.
Pricing & Purchase
| | | | | |
| --- | --- | --- | --- | --- |
| Item | Description | Price | Sizes | |
| EBS-60 | One Pair Bamboo modular display rack stand only | $108.27 + shipping | 16"W x 60'H | |
| EBS-72 | One Pair bamboo modular display rack stand only | $124.52 + shipping | 16"W x 72'H | |
| BSO-36 | 3' Bamboo shelf only | $39.86 + shipping | 16"D x 36"L | |
| BSO-48 | 4' Bamboo shelf only | $45.42 + shipping | 16"D x 48"L | |
| BSO-60 | 5' Bamboo shelf only | $51.18 + shipping | 16"D x 60"L | |