Green Store Inc. MGP Established since 1997, We have been growing from a outdoor garden products company to include indoor and outdoor products, products include planter boxes, fences, garden accents, furniture, commercial display products, and accessories. We only carry products made with natural sustainable material, no synthetic material, no plastic, no chemical.
Our naturally rot resistant plantation teak wood products make great outdoor and indoor products for both the residential and commercial. We introduce the use of original natural teak wood poles for a line of indoor and outdoor products by utilizing mature teak branches from harvested tree. Minimizing waste and increase income to the farmers.
Although bamboo is classified as grass, they are as elegant and as strong as the most durable types of wood. Bamboo is a rapidly renewable material, as the stems can be harvested repeatedly from the same plant for 2-5 years. There are many different species of bamboo, several of which are used in buildings and outdoor structures. Our bamboo line of products include outdoor gardening, fencing, furniture, commercial display products, and bamboo building materials. We use Moso, Calcutta, Tonkin and Java Black bamboo in our product line.
Bentwood material like the willow branches and peeled willow canes used in our willow garden products, grows quickly and are individually hand collected by craftspeople from local forests and plantations. Willow sticks are a rapidly renewable material and are harvested in a sustainable way from managed willow plantations. Our classic peeled willow products are constructed with carbonized, steam dried willow sticks which will resist decay in harsh outdoor environments. Its light mahogany color and clean wood-like character makes them great for outdoor gardening.
Additionally, in the spirit of recycling to conserve our natural resources, we design and custom build our line reclaimed oak barrel furniture, planters and display fixture line.
Our customers includes commercial businesses,home owners film makers, public gardens, zoo, that find our unique products like on others in the market. We also have been supplying interesting rustic building set material to the movie and television industry for the last 15 years.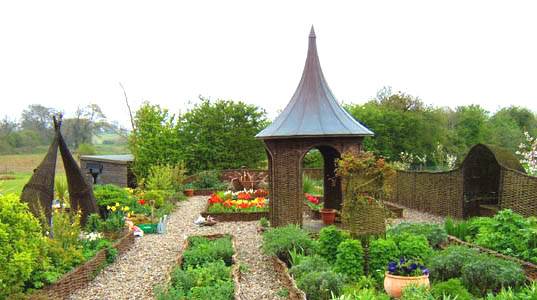 Bamboo garden products Willow garden products
Green and Ecologically Sustainable
Why no plastic or synthetic material in your garden products, read National Georgraphic Planet or Plastic?
We want to incorporate the natural beauty of wood into our line of products. We acquire our cedar and teak wood material from proven sources which are certified to practice responsible woodland management.
Willow grows rapidly on non-prime agricultural land and on poor drainage soil. They bring subsistence resources to farmers and jobs to villages. Our newest addition of classic willow garden products brings more choices and styles to our willow garden line.
The bamboo's ability to grow on marginal and waste lands along with their rapid growth, low-cost extraction, processing, and multi-functionality, gives them an important role as a necessary resource for rural communities. Rapidly renewable resources like bamboo can grow even on steep hills, which in then can prevent erosions and conserve soil, as well as reduce carbon dioxide levels in the atmosphere to help slow down global warming.
We also recycle used oak wood wine barrels into a series of unique planters, furniture, display shelving and other uses for your home garden.

Bamboo Poles Wall Wine Room Decor