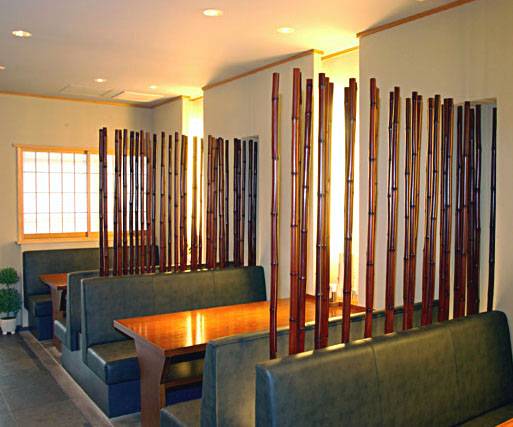 Black bamboo used as decorative divider in a restaurant
Black bamboo have culms that are green when they first emerge from the ground, and within months they acquire the natural black color with darkish-brown patches that gives this bamboo a beautiful, rich, appearance. The culms of this bamboo are used extensively in Japanese woodworking and are excellent for indoor and outdoor decorative uses.
We've noticed that small black bamboo poles tend to be darker and more black in color than the larger bamboo poles.
Our Timor Black Timber bamboo poles are average 3- 4 inches diameter. They are thick wall heavey bamboo, crack resistent and very popular with the craftman in Bali Indonesia for making handcraft and home construction project.. Very decorative at home and outdoor.
Key Features
Natural black bamboo poles, thick walled.

Excellent for indoor and outdoor decorative uses.

Black bamboo poles are processed for indoor and outdoor use.
Pricing & Purchase
| | | | | |
| --- | --- | --- | --- | --- |
| Item | Description | Price | Size | |
| BBP-1 | Black bamboo poles | $6.53 + shipping | 1"D x 96"L | out of stock |
| BBP-125 | Black bamboo poles | $7.95 + shipping | 1.25"D x 96"L | out of stock |
| BBP-3-96 | 8' long Black timber bamboo poles | $24.85 + shipping | 3"D x 96"L | |