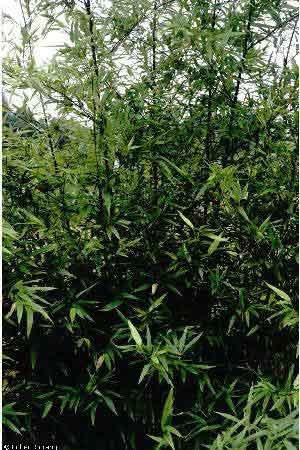 Black bamboo
Physical Characteristics
Black bamboo, Phyllostachys nigra is an evergreen bamboo growing to 18' height. It is hardy to zone 7. It is in leaf all year. The flowers are hermaphrodite (have both male and female organs) and are pollinated by Wind.
Habitats
Fast-growing, upright green culms turn black in their second season, contrasting nicely with rich green foliage. Evergreen. Full to partial sun. Fast growth to 4 to 8 feet tall, if controlled, 15 to 20 feet tall otherwise, clumps to 6 to 10 feet wide. Division. Running.
The plant prefers light (sandy), medium (loamy) and heavy (clay) soils. The plant prefers acid, neutral and basic (alkaline) soils. It can grow in semi-shade (light woodland). It requires moist soil.
Planting care
Follow a regular watering schedule during the first growing season to establish a deep, extensive root system. Can become invasive, best contained in an unperforated pot with lip above soil level. Black bamboo is invasive but can easily be controlled.
Edible Uses
Young shoots - cooked. Somewhat acrid when raw, they are prepared for eating by boiling in one change of water, the water being changed after 8 - 10 minutes. A distinctive taste and aroma. The shoots, which are about 2" in diameter, are harvested in the spring when they are about 6" above the ground, cutting them about 5cm below soil level.
Uses
Mostly use as an ornamental bamboo plant in the garden landscape. It will add an exotic, oriental look to the landscape with this rare form of bamboo. The culms of this bamboo are used extensively in Japanese woodworking. Black bamboo poles are used in musical instruments and decorative projects, they are prized for use in teahouses also.