'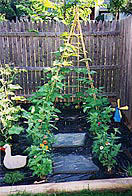 Bamboo stake in teepee form, but you can build them in any form you want Bamboo stakes close up look
Bamboo stakes play an important role in the early development of young plants and trees. We encourage gardeners whenever possible to stake their plants when using our containers. This gives the plant or tree adequate protection, support, and an opportunity to grow upright and healthy inside the container. Heavy duty bmaboo stakes.
We also carry a full line of regular bamboo poles of all sizes that can be used as stakes.
Key Features
Bamboo stakes cost less when compared to wood or metal, and they are a rapidly renewable material.

When plant materials are transplanted into a container or ground, they will need the extra support of the stakes to help them grow upright.

Bamboo stakes allows for proper growth for the plant, so as not to interfere with normal root development.

All sizes of bamboo stakes are available for different applications.
Pricing & Purchase
| | | | | |
| --- | --- | --- | --- | --- |
| Item | Description | Price | Size | |
| BS-36 | Natural Bamboo Stakes, 20 in a bag | $4.32 + shipping | 3/8"D x 36"L | |
| BS-48 | Natural Bamboo Stakes, 20 in a bag | $7.02 + shipping | 3/8"D x 48"L | |
| BS-60 | Natural Bamboo Stakes, 10 in a bag | $4.95 + shipping | 1/2"D x 60"L | |
| BS-72 | Natural Bamboo Stakes, 10 in a bag | $6.12 + shipping | 1/2"D x 72"L | |