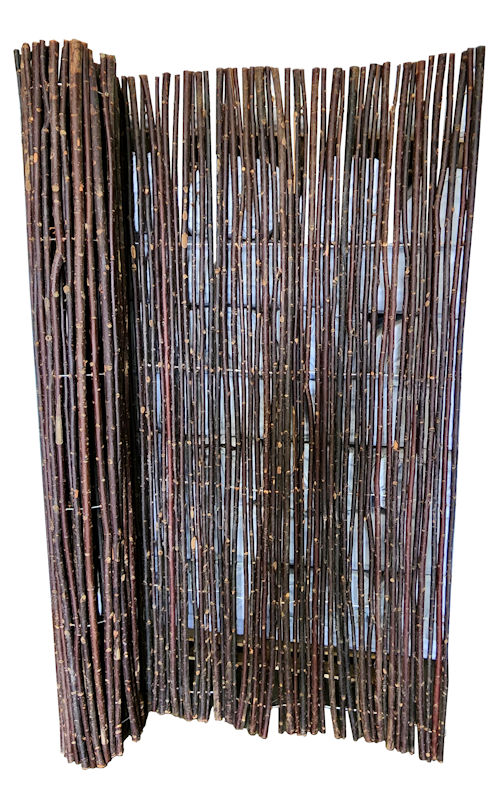 Willow poles fence Willow poles fence under the sunlight
Willow poles are large sections taken from the trunk or main branches of the willow. Our willow pole fence is similar to our classic willow fence but instead of the regular willow sticks, we use the large willow poles with diameters ranging from 3/4 to 1" to construct these fences. These large willow pole fences will be a wonderful addition to your home and garden for that added rustic look. We use selective straight willow poles to make our fences to provide good privacy for your property. Also great as an indoor rustic silhouette.
They are strung together with galvanized wire. All willow poles used are processed to be preserved for outdoor use then finished with linseed oil. Sizes available are 4', 6' and 7.5' in height, they come in rolls of 6' in length.
Key Features
Rustic looking willow fences for added privacy or for decorative purposes with a minimum of 3/4" diameter and up.

Easy installation in flexible rolled form. Can be bent around a corner or irregular landscape, even tied or nailed to the post of any existing structure.

Good privacy fence with fairly straight willow poles tightly strung together.

Finished with linseed oil for outdoor protection. Will eventually age to a grey color.

Strung with rust proof galvanized wire.
Pricing & Purchase
| | | | | |
| --- | --- | --- | --- | --- |
| Item | Description | Price | Sizes | |
| WPF-7 | Large Willow Poles threading fence | 194.12 + shipping, please contact us for discount freight for 10 rolls& over | 8'H x 8'L | out of stock |
| WPF-6 | Large Willow Poles threading fence | $154.23 + shipping, please contact us for discount freight for 10 rolls& over | 6'H x 8'L | |
| WPF-4 | Large Willow Poles threading fence | $114.41 + shipping, please contact us for discount freight for 10 rolls& over | 4'H x 8'L | out of stock |