Willows for Fencing & Twig Furniture
Willow have been used for centuries all over the years for woven household utensils to produce medicine. They are plenty by the wetland and lowland, and are capable of re-growing into maturity in a matter of two years,
Coppicing willows
Coppicing is a traditional practice of environmental management used by the basket weavers all over the world. It involves cutting the willow plant back to its base and removing the weak shoots to encourage vigorous re-growth. The willow plant is allowed to re-grow from the cut stumps. Willows are coppice to stimulate the propagation of newly formed long, slender, and flexible branches or shoots that will in a year or two grow into a willow stick big enough to be woven into various types of willow garden products . Coppicing provides an environmentally sustainable source of willow withes through periodic cutting, which actually prolongs the life of the tree. Besides preserving traditional skills, coppicing creates a rich mosaic of habitats, attracting a diverse range of flora and fauna.
Uses of willows
For whole shoot twining basketry, use one year's growth gathered in the early spring or late fall. That is, anytime between the dropping of the leaves and the appearance of new buds in the spring. We normally use two years willow sticks to make our willow products because willow garden products need a stronger structure than the basket, and obviously it look proportionally better if you use the bigger diameter willow to weave a 6' x 6' willow fence,
After gathering, the willow withes are left air dried in the shade and then reconstituted later for use. This creates a finished twined willow product that is stiffer and tighter. To reconstitute the willow, completely submerge them in a container of water for about a week or soak them in a hot water for to soften the sticks before weaving.
Willow sticks can be harvest every year, and it grow on marginal land where no other cash crop will crop, it is a rapidly renewable material.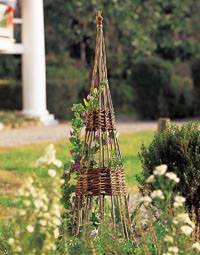 Beautiful willow obelisk Willow fencing
Our private policy for your protection
Copyright 2001. Master Garden Products. All Rights Reserved.
Send mail to webmaster@mastergardenproducts.com with questions or comments about this web site.
Last modi