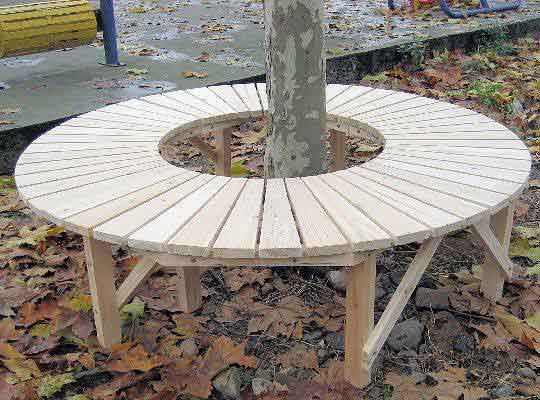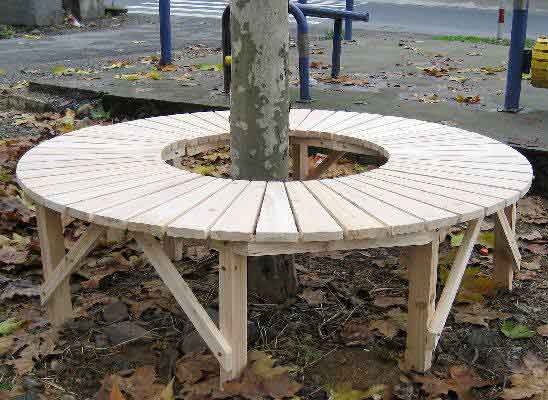 Full circular tree bench with no back support in a public park.
Circular tree bench with out back support is another of our extensive line of tree benches, it is designed to go around a tree or other structure in the garden offering a welcome seating area. The bench is constructed with northern white cedar finished with clear outdoor wood sealer.
Two sizes is available, 66" or 78" wide, go around a tree from 30" diameter to 42" respectively.

natural finished half round tree bench
Download Manual for Standard 4 Posts Seated Raised Bed

Key Benefits:
Circular tree bench without back support, comes in sections and can be easily mounted together with screws.

You use them to surround a tree or just half a tree if your space is limited.

We use white cedar lumber for construction of our tree benches, heave duty 3x3 for the frames and 1x4 for the seat and the back support.

Our tree benches are semi-Assembled in our factory for products integrity and quality. Assembly required.
Key Features
| | | | | |
| --- | --- | --- | --- | --- |
| Item | Description | Price | Sizes | |
| CCTB-96 | Full circular tree bench 78" overall width, inside diameter 42", Total four sections. Bench width 18". | $298.31 + shipping | 78"L x 78" W x 18"H | |
| CCTB-48 | Half circular tree bench 78" overall width, inside diameter 42", Total two sections. | $168.31 + shipping | 39"L x 78" W x 18"H | |
| CCTB-84 | Full circular tree bench 66" overall width, inside diameter 30", Total four sections. | $263..69 + shipping | 66"L x 66" W x 18"H | |
| CCTB-42 | Circular half tree bench 66" overall width, inside diameter 30", Total two sections. | $152..69 + shipping | 33"L x 66" W x 18"H | |