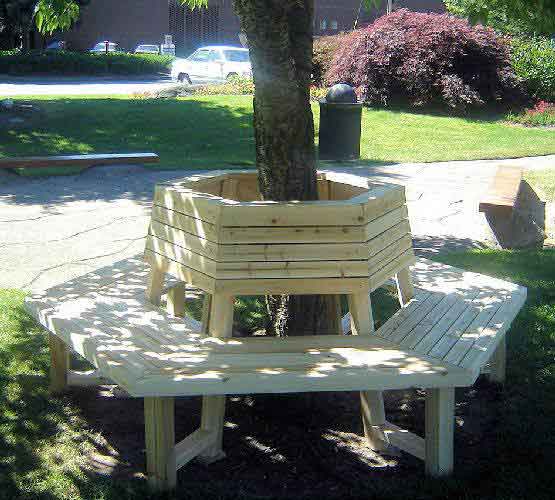 Full cedar wood tree bench in a town public park
Trees are everywhere in the garden and to be able to lounge around this natural shade makes for grand appeal. Our tree bench is hexagon shape, it could be set up to surround a tree or half a tree. Set them up half way around the tree and face it away from a fence for maximum use of your space. The package is easy to set up with three mostly pre-built sections, the back support, the seat, and the leg section.
We design our tree bench like nobody else, built with White cedar, the bench is well designed with a back rest and the seat is set at a degree for comfort.
Exclusively from Master Garden Products! You can use our tree bench with the optional planter liner kit to build a hexagon shaped mini garden at the center of the bench and relax among your favorite flowers This elegant floral seating area can become the center point of your backyard.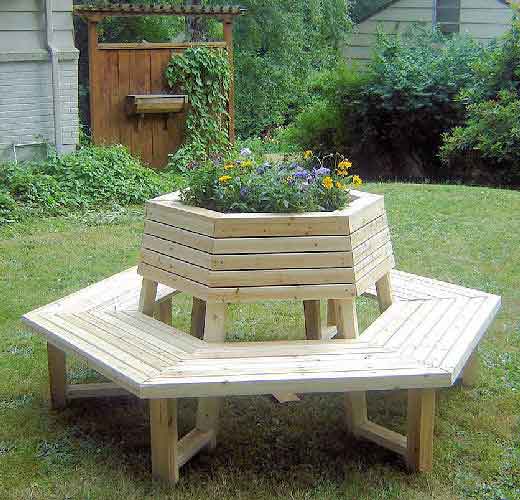 Seating center with optional planter kit Close look at the optional planter kit insert
Key Benefits:
Full featured tree bench with back rest, comes in sections and can be easily mounted together with screws.

Use them to surround a tree or just half a tree if your space is limited.

We use white cedar lumber for construction of our tree benches, heave duty 3x3 for the frames and 1x4 for the seat and the back support.

Come with two different popular sizes 48" width or 42" width per seating section. Tree bench opening diameter for the tree from 30" to 36" diameter.

Plant flower with our exclusive planter kit insert to create a mini as the center point of your garden seating area.

Our tree benches are semi-Assembled in our factory for products integrity and quality. Assembly required.
Pricing & Purchase
| | | | | |
| --- | --- | --- | --- | --- |
| Item | Description | Price | Sizes | |
| CTB-96 | Full tree bench with 50" wide per seating section. 96" overall width, opening diameter 36", | Regular $481.31 add $45.00 for optional planter kit, click order now to pick option | 96"L x 96" W x 36"H | |
| CTB-48 | Half tree bench with 50" wide per seating section, 96" overall width, opening diameter 36", | $327.69 + shipping | 48"L x 96" W x 36"H | |
| CTB-84 | Full tree bench with 44" wide per seating sections. 84" overall width, opening diameter 30", | Regular $428.12 add $42.00 for optional planter kit, click order now to pick option | 84"L x 84" W x 36"H | |
| CTB-42 | Half tree bench with 44" wide per seating section. 84" overall width, opening diameter 30", Total three sections. | $291.32 + shipping | 42"L x 84" W x 36"H | |