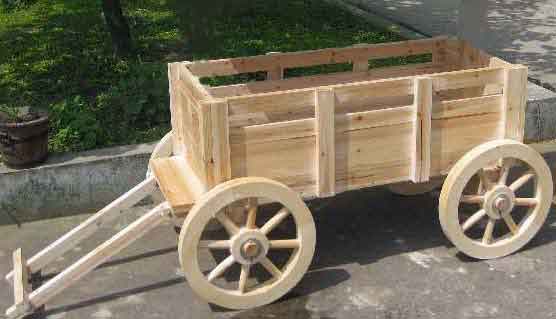 Wagon display cart WWD-50 shown with optional shelving WDS-39. wagon only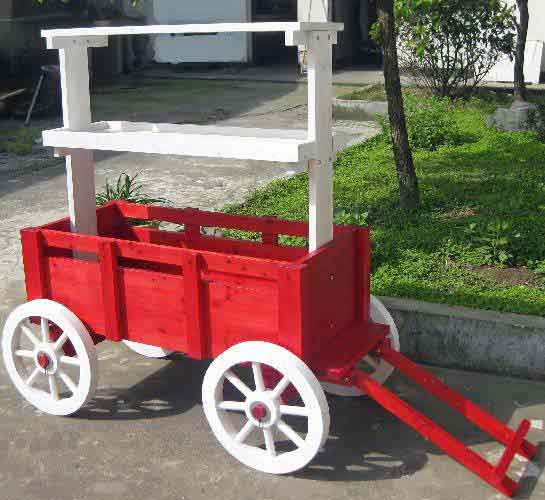 Wagon display cart WWD-50C shown with optional shelving WDS-39C.
Wagon display is an wood accent display that will attract your customer attention. Four wooden spoke wheels will actually move your mobile POP center around if needed.
Our wooden accent wagon cart is built with cedar wood, they can go indoor or outdoor. It design with a two tiers shelf rack for general display. The seven spoke wheels are made of solid cedar wood, secured to the wagon with a bolt and nut through the planter so you can move to change the location of your display. The size of the wheel is 16" diameter and 2" thick.
The overall dimension of the cart is 51"L x 18"W x 50"H, the inside dimension of the cart is 37"L x 16"W, the second shelf with rim is 36" high, and the top is at 50"H, the shelf is 11"W x 39"L, that will give your plenty of display area to show case your products like the wine, food and lot of others. This a eye catching rustic piece of point of purchase POP stand.
Options including the two tiers shelving, platform panel.
Key Features
Traditional look wagon display great fro accent display or decorative flower cart.

The Wagon is great for displaying merchandise or being used to decorate your landscape.

Working wheel with true spokes to enable easy movement of the wagon and transport it anywhere in your showroom.

The wagon is constructed with glue and wood screws to strengthen weight holding capacity.

The turning spoke wheel is made of solid hardwood 2" thick, bolts and nuts attach the wheels through the cart.

Optional clear acrylic coating or red wagon body with white wheels.
Pricing & Purchase
| | | | | |
| --- | --- | --- | --- | --- |
| Item | Description | Price | Sizes | |
| WWD-50 | Accent Wagon Display, clear acrylic finished. | $175.31+ shipping | 20"W x 48"H x 50"L | |
| WWD-50C | Accent Wagon Display, red and white wheels. | $208.22+ shipping | 20"W x 48"H x 50"L | |
| WDS-39 | Two tiers shelving for accent Wagon Display, clear acrylic finished. | $34.26+ shipping | 11"W x 39"L | |
| WDS-39C | Two tiers shelving for accent Wagon Display, white finished. | $39.31+ shipping | 11"W x 39"L | |