Regular Brown Willow Trellis Lattice Fences
We offer the widest selection of willow garden products in the market today. Our regular brown willow trellis products and our newest addition of processed willow stick trellises uses skinless willow sticks that are pressure treated and carbonized to a deep caramel color. The skinless willow sticks will last longer as insects cannot attack the wood from under the bark. This simple, clean cut trellis will age to beautiful grey color.
Our willow trellis design with expandable and flexible framed panel allows the trellis to extend to your desired size, and they are easy to transport and store away. They can be used on uneven ground or on properties residing on a slope. These trellises can easily adapt to various contouring landscapes and are flexible enough to open up to form an irregular pattern such as a large circle. This traditional trellis panel will blend right into your garden.
We use natural willow sticks that are harvested every one to two years for production. They are ecologically sustainable which will help offset the carbon releasing materials such as steels or plastic.

Willow Flex Fence Willow Cone Trellis
Sale 5% off, 6 pcs & over 10% off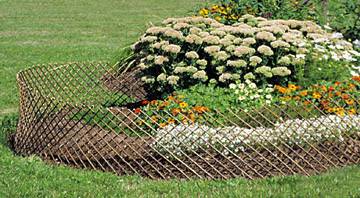 Circular Willow Fence & Border Willow Lattice Fence

Willow Trellis Willow Teepee
Sale 5% off, 6 pcs & over 10% off

Willow Fan Trellis Willow Round Teepee
Sale 5% off, 6 pcs & over 10% off
Willow Ladder Trellis Willow Espalier Trellis