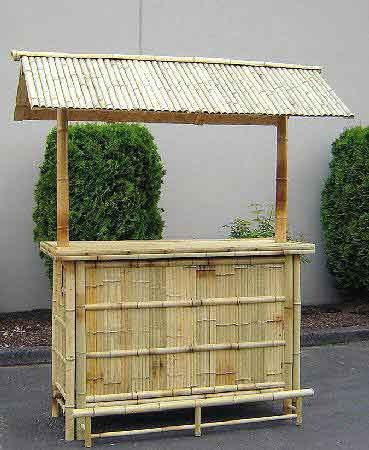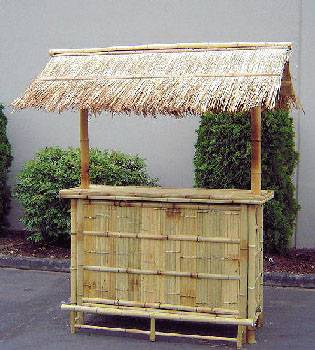 TB-25 series with bamboo tile roof TB-25 series with grass thatch roof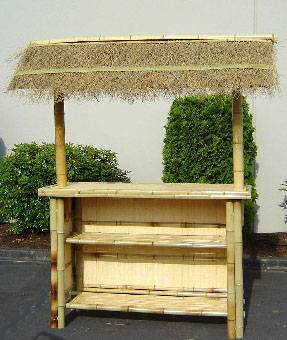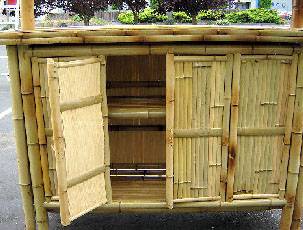 Tiki bar with open shelves TB-25 series with doors and shelves spaces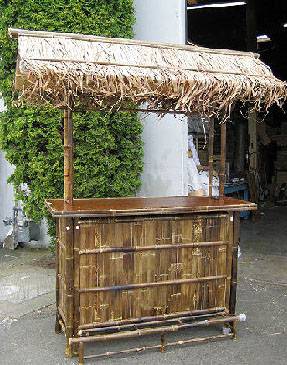 TBB-25T, Black bamboo tiki bar
Bamboo Tiki bars are commonly used at home or in commercial establishments as entertainment centers, handcrafted with Muso bamboo poles seasoned for outdoor and indoor use. We offer two bamboo bars with different looks and sizes, the Tiki and the Tahiti. The difference between the two style is the Tiki bar counter is closed in with two doors opened to shelf space under the counter, while the Tahiti has the wide open shelf space only. Both Tiki and Tahiti bar roof tops are constructed with bamboo plywood with your choices of grass thatch, or the bamboo tile. Each one presents different styles and looks to suit your taste
All our bamboo bars are well designed with foot rests at the bottom of the front counter for comfortable seating. The overall dimension is 89" in height, 76" in length and 36" wide, the counter is 24" wide, 64" in length and 44" high. The walk in height by the edge of the roof is 72". All bamboo components are finished with a coating of lacquer.
The counter of our Tahiti bar is 24" wide and 64" in length with open shelf space under the counter. All of our bamboo bars are packed disassembled and are easily installed with simple tools. We also offer a full line of bamboo bar stool to match our tiki bars.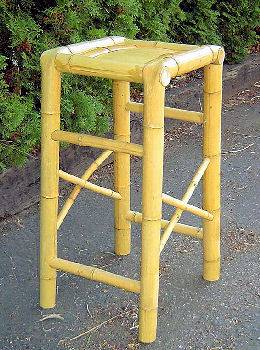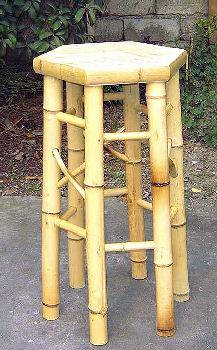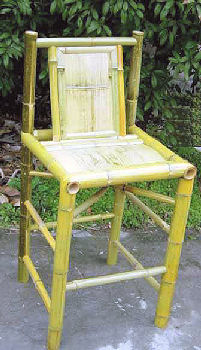 TBC-30, BBS-30H THB-30 THB-30A
Key Features
Well designed bamboo bar entertainment center with plenty of storage and hanging space.

Two cabinet doors open to a two tier shelf storage below the counter and a glass rack above the counter for the Tiki Bar series only.

Counter is 24"wide, and 44" high.

Open shelves under the counter for the Tahiti series.

Choice of tropical grass thatch roof or the classic Asian bamboo tile and twig roofing.

Bamboo bar is finished with a coating of lacquer.

Handcrafted with process bamboo ensuring longevity in outdoor and indoor environment.
Pricing & Purchase
| | | | | |
| --- | --- | --- | --- | --- |
| Item | Description | Price | Sizes | |
| TB-25 | Bamboo Tiki Bar with bamboo tile roof with door. | $695.12 + shipping | 24"W x 64"Lx 89"H | |
| TB-25T | Bamboo Tiki Bar with grass thatch roof with door. | $675.32 + shipping | 24"W x 64"Lx 89"H | |
| TBB-25T | Black Bamboo Tiki Bar with grass thatch roof with door. | $785.43 + shipping | 24"W x 64"Lx 89"H | |
| TB-20 | Bamboo Tahiti Bar with bamboo tile roof without door | $638.24 + shipping | 24"W x 64"Lx 89"H | |
| TB-20T | Bamboo Tahiti Bar with grass thatch roof without door | $635.12 + shipping | 24"W x 64"Lx 44"H | |
| TBC-30 | Bamboo Tiki Bar Stool | $59.00+ shipping | 16"W x 30"H | |
| THB-30 | Bamboo Tahiti Bar Stool with back support | $88.71+ shipping | 20"W x 30"H | |
| BBS-30H | Hexagon Bamboo Bar Stool | $63.47+ shipping | 16"W x 30"H | |
| THB-30A | Tahiti Bar Stool with back and arm support, 45" overall height, seat height 30" | $103.06+ shipping | 20"W x 46"H | |