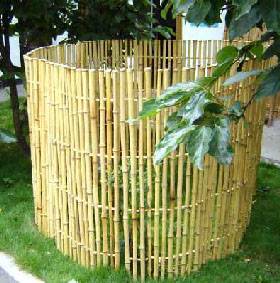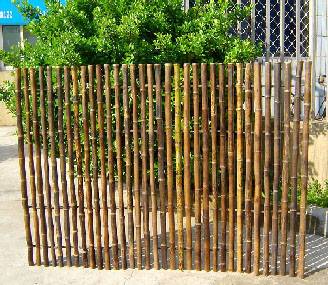 Excellent for screening central air conditional Black bamboo ornament fence OBF-48B
This bamboo ornamental fence features a leveled top with spaced bamboo poles. The rolled fences are put together by threading mature bamboo poles with the bamboo rings spaced between the poles to give it a more open look. The spaced pole design of the ornamental fencing allows you to showcase your property while also securing it.
Excellent as a divider or to screen certain corners or structures in your yard. Commonly used as a shading material for arbors or pergolas.
Available in 2', 3', 4' and 6' in height, all 6' long.

two rolls of regular ornamental bamboo fence 4'H, OBF-48
Key features
Open look with bamboo ring covered wires between the poles.

Ornamental rolled fence with easy set up and installation.

Bamboo poles used in our fences are cleaned and processed with a coat of natural bamboo oil for protection.
Pricing & Purchase
| | | | | |
| --- | --- | --- | --- | --- |
| Item | Description | Price | Sizes | |
| OBF-72 | Ornamental Bamboo rolled Fence, 1.5" diameter poles | $58.32 + shipping, | 6'L x 6'H | |
| OBF-48 | Ornamental Bamboo rolled Fence,, 1" diameter poles | $49.41 + shipping, | 6'L x 4'H | |
| OBF-48B | Ornamental Black Bamboo rolled Fence,, 1" diameter poles | $59.23 + shipping, | 6'L x 4'H | |
| OBF-36 | Ornamental Bamboo rolled Fence, 0.5"-1" diameter poles | $38.63 + shipping, | 6'L x 3'H | |
| OBF-24 | Ornamental Bamboo rolled Fence, | $28.84 + shipping, | 6'L x 2'H | |