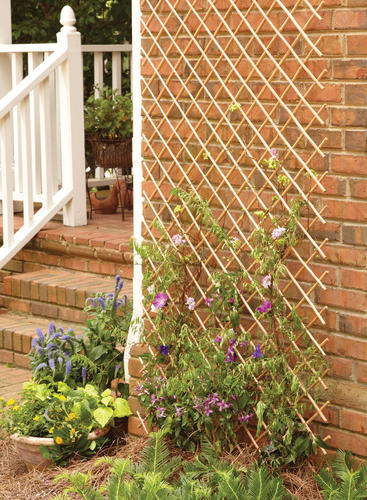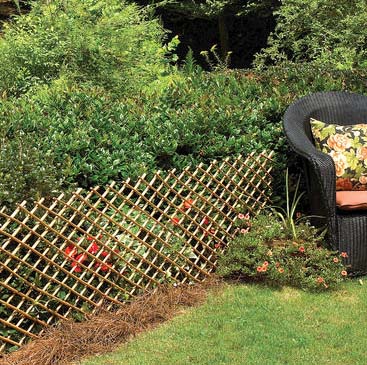 Classic willow installed vertically classic willow fence in the garden
Our expandable classic peeled willow flex trellis fences are versatile in garden set up. Install them in the traditional horizontal or vertical direction give your landscape different look and functionality. They are excellent as divider and climbing vine support. These classic willow accordion style fence are excellent for indoor use too, use them as the willow pet fence as feature in Martha Stewart Living Willow Pet Fence.
Each segment of our versatile lightweight trellis lattice fence will stretches from roughly 3' to 8' long depending on the height of the fence, (the fence becomes shorter as its stretched longer). Constructed from diagonally attached skinless carbonized peeled willow sticks. These willow material are resistant to decay and excellent for outdoor use.
The height of our standard measurement in our pricing is when the fence is expend to 72" wide. The height may varies depending the width of your extension in practical use. We have a few different sizes for you to chose from.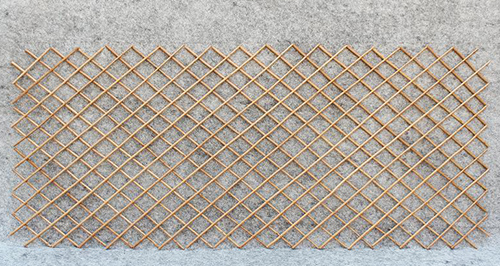 WCFF-72, Light Mahogany no bark willow trellis, 72"H x 72"W WCFF-48, Carbonized no bark trellis fence, 48"H x 72"W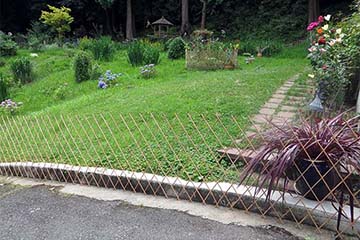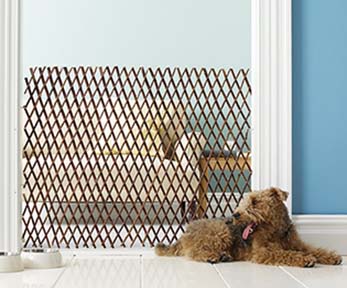 WCFF-36X along walkway As feature in Martha Stewart Living Willow Pet Fence.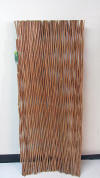 WCFF-48 WCFF-68 customer picture WCFF-38 WCFF-48 Closed
Key Features
Expandable to different heights and lengths to suit your needs.

Use them as fences, divider, climbing plant support, trellis.

Classic light mahogany color look for a informal garden setting.

Carbonized peeled willow sticks without skin are about 1/4" to 3/8" thick.

Bark less and carbonized, they are suitable for indoor uses.

Our standard opening is about 3.5"high and 2.5" wide when extend to 72" wide.

WCFF-36X is extra long with 10" diamond opening, it is more flex and longer, able to form a circular garden.

We recommend putting a coating of linseed oil or outdoor sealer to preserve product in outdoor.

Diamond shape opening is 4" when expand to standard 6' wide.
Pricing & Purchase
Item

Description

Price, Pick your bundle discount after add to cart

Sizes

WCFF-12

Classic willow flex fence, 3" diamond opening

single pc/ $8.72 + shipping
set of 2/ $17.09 + shipping
set of 5/ $42.29+ shipping

72"W x 12"H

WCFF-24

Classic willow flex fence, 3" diamond opening

single pc/ $13.44 + shipping
set of 2/ $25.53 + shipping
set of 5/ $61.44 + shipping

72"W x 24"H

WCFF-36

Classic willow flex fence, 3" diamond opening

single pc/ $16.63 + shipping
set of 2/ $31.63 + shipping
set of 5/ $78.63 + shipping

72"W x 36"H

WCFF-48

Classic willow flex fence, 3" diamond opening

single pc/ $18.75 + shipping
set of 2/ $35.62 + shipping
set of 5/ $89.053 + shipping

72"W x 48"H

WCFF-60

Classic willow flex fence, 3" diamond opening

$21.58 + shipping

72"W x 60"H

WCFF-72

Classic willow flex fence, 3" diamond opening

$25.18 + shipping

72"W x 72"H

WCFF-36X

Classic willow flex fence, 10" diamond opening

$21.30 + shipping

360"W x 30"H

GWS-20

Garden Wood Stakes

set of 4 / $3.50 + shipping


20"H x 1.5"D

GWS-40

Garden Wood Stakes

set of 4 / $6.00 + shipping

40"H x 1.5"D