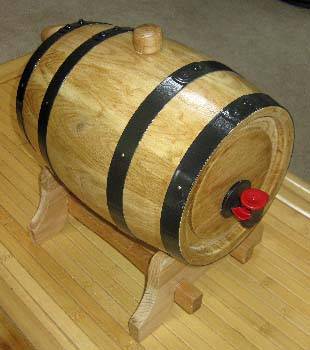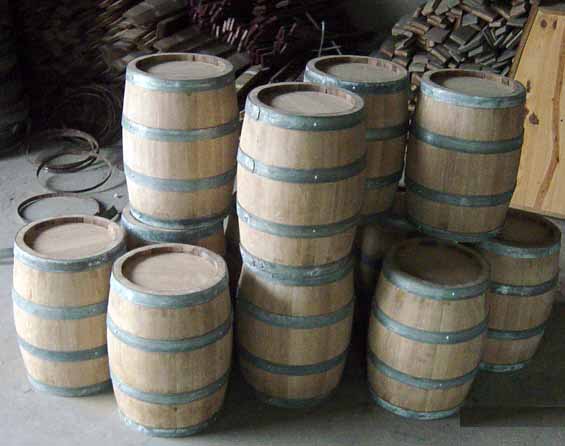 Oak barrel keg w refill bag on stand Barrel keg from reclaimed French wine barrel
Our dispensable barrel keg is essentially small oak wood barrel remanufactured using reclaimed straight grain French or the American oak staves from genuine retired wine barrels and in some cases using plantation oak wood. Wine, spirit and beer can be store and dispense from the recyclable food grade bag inside them. They come in sizes of 15, 10, 5, 1 gallon, quart and fifth.
You can serve your wine and alcohol spirit directly from your production barrels saving energy and transportation cost. instead of shipping 12 bottle case to restaurant, you can send our smaller barrel keg, inside is the recyclable and replaceable bag filled your wine, spirits or beer. The bag allow you to conserve your wine and spirit for more than 4 months while reducing waste and by a fraction of carbon foot print that regular glasses of wine.
Our oak wood barrel kegs are excellent for winery, brewery, wholesaler, retailer of wine, beer and spirits. We have our own in house custom branding to put your name, trade mark and promotion. Instead of bottles, you can use our genuine oak wood barrel keg with many sizes to sell and promote your wine and alcohol beverage. The keg barrel stand is optional, can be purchase separately.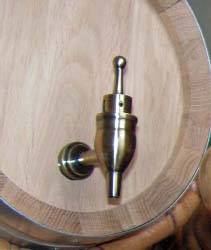 Optional stainless steel spigot.
Key Features
Made with reclaimed oaks wood staves from the retired wine barrels and plantation oak wood.

Make good promotional sale for winery, beer, spirit and alcohol brewery. Excellent for home use too.

Optional stainless spigot.

Excellent wine, spirit and beer promotional barrel keg with dispenser. Promote your products right from the barrels where they come from.

We do custom computerized branding.

Keg stand is optional can be purchase separately.
Pricing & Purchase
| | | | | |
| --- | --- | --- | --- | --- |
| Item | Description | Price | Sizes | |
| WKB-015 | One fifth wood barrel with dispenser | $55.27 + freight | 1/5 gallon | |
| WKB-014 | Quarter wood barrel with dispenser | $62.16 + freight | 1/4 gallon | |
| WKB-1 | 1 gallon wood barrel with dispenser | $98.42 + freight | 1 gallons | |
| WKB-5 | 5 gallon wood barrel with dispenser | $128.42 + freight | 5 gallons | |
| WKB-10 | 5 gallon wood barrel with dispenser | $152.16 + freight | 10 gallons | |
| WKB-15 | 10 gallon wood barrel with dispenser | $192.16 + freight | 15 gallons | |
| WKB-30 | 30 gallon wood barrel with dispenser | $292.16 + freight | 30 gallons | |