Bamboo panel blonde, BP-HB BP-HC carbonized caramel color
Bamboo panels are being used as the finished plywood material, with their unique look and color tone, the bamboo panels are for any project from making your custom furniture to making walls and ceilings.
Thickness is 5/32" and comes in various 4' x 8' panels. This bamboo panel is structural strong for a lot of project and yet flex enough to apply onto irregular wall contour. The surface is finished sand, just apply your own paint or stain.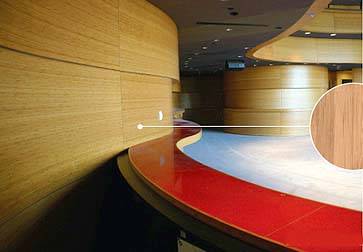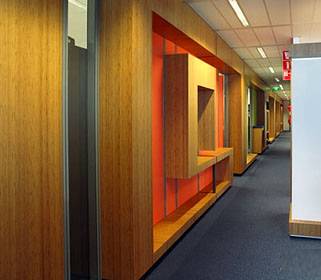 Bamboo Panels in a showroom In a corporate office
Key Features
Manufactured from natural Muso bamboo, famous for its strength and straightness.

Bamboo panel is very easy to work with for wall and ceiling, furniture and for virtually anything that needs a cover,

Different color and pattern to choose from.

Made with bamboo which is rapidly renewable and put less stress on the environment than the wood products which take many year for tree to grow.

Easy application use adhesive or screws to secure.
Pricing & Purchase
| | | | | |
| --- | --- | --- | --- | --- |
| Item | Description | Price | Sizes | |
| BP-HB | Bamboo panel wide slat blonde finished | $58.81 + shipping, this item ship via truck, please contact us for freight cost. | 48"W x 96"H | |
| BP-HC | Bamboo panel wide slat carbonized smoked finished | $58.81 + shipping, this item ship via truck, please contact us for freight cost. | 48"W x 96"H | |