WBF-44G Natural bamboo gate KBF-44G Wood framed bamboo plank gate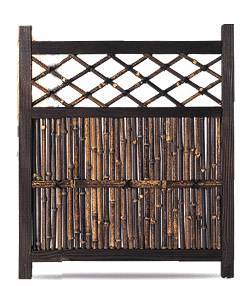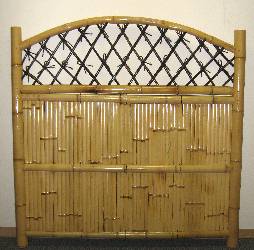 WBG-34B Black bamboo gate RBG-44, Round top bamboo gate
Add a bamboo gate to your bamboo fencing, we offer a full line of bamboo gates with different bamboo, designs and sizes. The wood framed solid bamboo gate is built with easy installation in mind. Hinges can be added easily to the solid wood frame.
The WBG-34 is a full bamboo poles gate with lattice top, the KBF-44 bamboo planks gate is a perfect match for our bamboo privacy fences. RBG-44 is a all bamboo gate that are used in our bamboo hut and gazebo.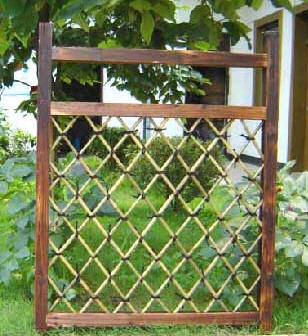 WBG-72 bamboo gate WBG-72 set up at the garden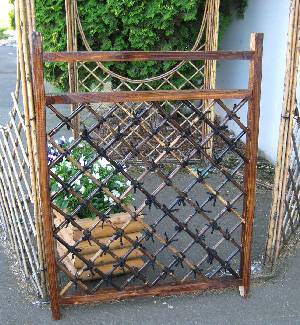 WBG-72B bamboo gate, black bamboo
The bamboo lattice gate WBG-72 features a light-weight wood frame for easy installation. We offer them with a regular or black bamboo lattice.
Key Features
Wood framed bamboo gate can be installed easily by screwing hinges to the wood frame directly.

Trellis bamboo gates are made of whole bamboo, pegged in from both sides to form a bamboo panel that looks great inside out. No hardware used, bamboo is peg together with bamboo dowels. Hinges are included.

Use our bamboo fences to form a gate way to your garden path, entrances and so on.
Pricing & Purchase
| | | | | |
| --- | --- | --- | --- | --- |
| Item | Description | Price | Sizes | |
| WBG-72 | Wood framed Bamboo Gate | $62.23+ shipping | 30"W x 40"H | |
| WBG-72B | Wood framed Black Bamboo Gate | $68.42+ shipping | 30"W x 40"H | |
| KBF-44G | Bamboo Plank Fence Panel, 4'H x 4'W * | $104.12 + shipping | 48"W x 4'H | |
| WBF-44G | Cedar wood framed bamboo gate with lattice top, 42" wide. | $98.32 + shipping* | 42"W x 4'H | |
| WBF-34B | Cedar wood framed black bamboo gate with lattice top, 3' wide. | $104.41 + shipping* | 36"W x 4'H | |
| RBG-44 | Round top all bamboo framed bamboo gate with lattice top, 4' wide. | $108.41 + shipping* | 48"W x 4'H | |