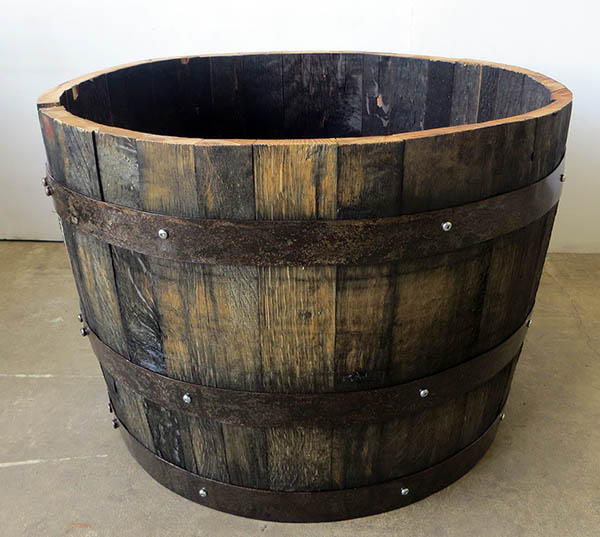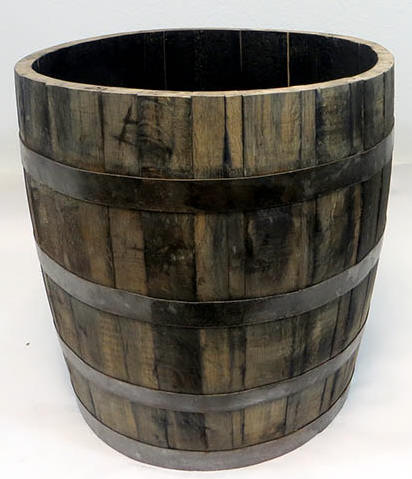 WKP-26, half barrel planter Urn style tall whisky barrel planter
All colors shown on the pictures may vary because these are made from used whisky barrels, each one is different as we get them.
We turn used oak wood whisky barrels into half barrels planter, shallow barrel planter, and the urn style tall barrel planter. General rules in selecting the right size container for your plants are that the container should be about twice the size of the root ball of the plants. Half barrels for standard size planting materials, shallow barrel planters are suitable for shallow rooted plants like color annuals and if you are planning to put a shrub or a small tree in the tub, you need to use the tall barrel planter. Barrel bowl planter is good for annual flower bowl.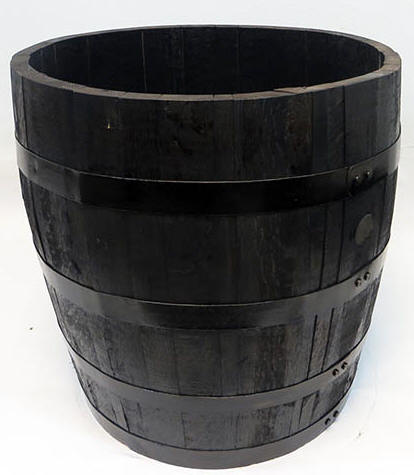 Dark walnut color tune barrel Happy customer in New York City
Key Benefits
These are genuine oak wood whisky barrels, you can still see the charred wood inside barrel for brewing whisky in their formal life.

Made of oak wood and finished with outdoor protective sealing to prolong usage in the garden. The splitting lips of half barrels are sanded for a finished look and feel.

Drainage holes are predrilled.

Optional dark walnut color tone is available.
Pricing & Purchase
| | | | | |
| --- | --- | --- | --- | --- |
| Item | Description | Price | Sizes | |
| WKP-26 | Regular Half Whisky Oak Wood Barrel Planter. | $75.28 + shipping, | 26"W x 17"H | |
| WKP-26P | Lacquer finished Whisky Oak Wood Barrel Planter. | $85.38 + shipping, | 26"W x 17"H | |
| WKP-14 | Oak wood Shallow Whisky Oak Wood Barrel Planter. | 54.28 + shipping, | 25"W x 9"H | |
| WKP-14P | Lacquer finished Whisky Oak Wood Barrel Planter. | 68.88 + shipping, | 25"W x 9"H | |
| WKP-34 | Urn Style Tall Whisky Oak Wood Barrel Planter | $148.79 + shipping | 26"W x 26"H | |
| WBP-34P | Urn Style Lacquer finished Tall Whisky Barrel Planter | $162.68+ shipping | 26"W x 26"H | |