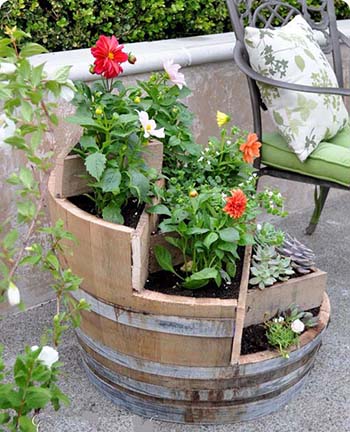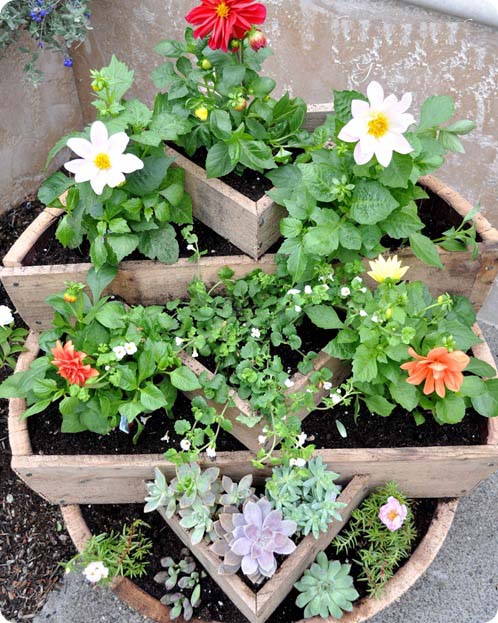 MBP-3 with 3 triangle tops, Natural no finish Top view of barrel planter with 3 triangle tops

MBP-3 with 3 triangle tops, Natural no finish
These unique multi tiers barrel planter will become the center pieces of your garden. It provde a vertical planting space to provide a different level of visual effect when blend into your landscape. Cedar wood triangle addon create more level of planting tiers.
We use authentic oak wood wine barrels with good quality and value in mind. Unlike whisky barrels, classic wine barrels are much better built, and wrapped with three galvanized steel bands to prevent rust which are frequently seen in whisky barrels. Unlike most retailers, we drilled drainage holes on the bottoms of your barrel planters for drainage.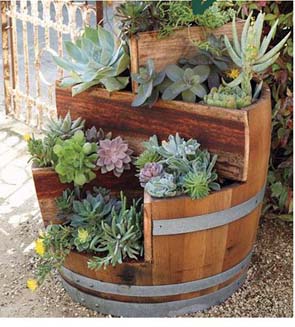 Multi tiers barrel planter with 2 triangle tops, Lacquer finished
Key Features
Wonderful as the vertical planting planter with multiple levels.

Drianage holes are drilled at the bottom.

Reclaimed use oak wood wine barrels will last a long time in your garden.

Option of lacquer finished or natural no finish.

2 different style and levels to choose from.
Pricing & Purchase
Item

Description

Price

Sizes

MBP-3

Multi Tiers Barrel Planter with 3 triangle bed, Natural
Multi Tiers Barrel Planter with 3 triangle bed, Lacquer

$165.08 + shipping,
$183.08 + shipping,

26"W x 32"H

MBP-2

Multi Tiers Barrel Planter with 2 triangle bed, Natural
Multi Tiers Barrel Planter with 2 triangle bed, Lacquer

$158.18 + shipping,
$176.18 + shipping,

26"W x 32"H