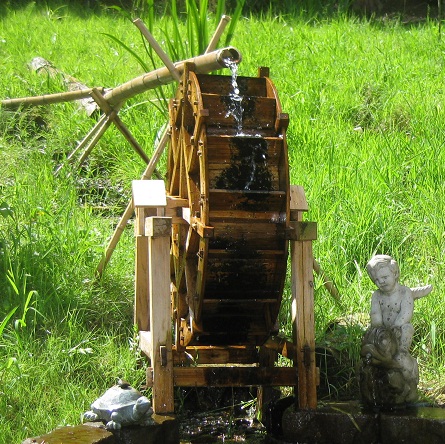 Waterwheel MCW-24 waterwheel put to use to oxygenate water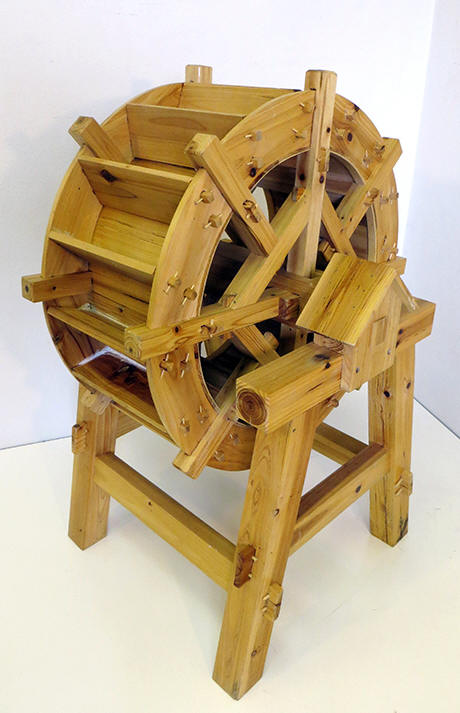 Waterwheel MCW-24
The water wheel works with a submersible outdoor pump to bring the water up to the top with the water channeling down to the wheel buckets that drives the wheel. It is a real working water wheel.
The water wheel is designed to use in ponds or streams, the water from the fountain will turn the wheel continuously.
Two sizes available: 2', 3' in diameter. You need to purchase a pump separately for the watermill to work if you do not already have one.
Key Features
Cedar wood is excellent for outdoor wood structures, it will last for years if properly maintained.

The water pump is adjustable from low to high water flow, the ball bearing we use is smooth enough to let the wheel turn on a slow flowing mode.
Pricing & Purchase
| | | | | |
| --- | --- | --- | --- | --- |
| Item | Description | Price | Sizes | |
| MCW-24 | 24" diameter Country Waterwheel, require MN-404 pump | $258.04 + shipping | 34"H x 24"W | |
| MCW-36 | 36" diameter Country Waterwheel, require MN-404 pump | $355.03 + shipping | 8"H x 36"W | |
| ECO-264 | Submersible Water pump, up to 396 gallon/hour, 6.3' lift | $35.90 + shipping | 1.6"L x 2.8"W x 2.1"H | |