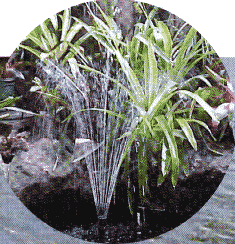 Daisy pattern spray Water bell pattern spray

ECO series Pump from 132 to 396 GPH
These submersible water pumps are great for everything from fountains to ponds. Powerful oil free high magnetic rotor, ceramic shaft and bearing insures reliability and quiet operation. Trouble free one moving part. Strainer protects impeller. If you are just getting a submersible water pump for our water containers along with our bamboo fountains, the ECO-132 would be sufficient. The larger pumps ECO-264 are for the water wheel mill house or if you require a higher lift and a larger flow of water for your fountain,
We have a series of pumps and fountains for our cedar water container and bamboo fountains. They create aeration, motion and soothing sounds for your water garden as well as provides oxygen to fishes or water plants in your water garden tubs.
Key Features
Our pumps are low on energy consumption, using an oil-free magnetic rotor, with a compact design that allows the pump to be placed easily in your water garden tub.

Our pumps come with flows from 132 to 396 gallon/hr. Head to 82 inches, 6 ft cord, 3-pin plug, power consumption 35 watts. 5/8 inch O.D. outlet, accept 5/8 inch I.D. tubing.

Can be attached easily from the fountain nozzle kit to the pump, our kit includes two spray patterns, daisy and water bell.
Pricing & Purchase
| | | | | |
| --- | --- | --- | --- | --- |
| Item | Description | Price | Size | |
| ECO-132 | EC Plus Submersible Water pump, up to 132 gallon/hour, 4.3' lift. | $22.70 + shipping | 1.3"L x 2.2"W x 2.1"H | |
| ECO-264 | Submersible Water pump, up to 396 gallon/hour, 6.3' lift | $35.90 + shipping | 1.6"L x 2.8"W x 2.1"H | |
| MGN-1 | Fountain Nozzle kit with two spray patterns | $10.50 + shipping | 8.5"L x 1.5"W | |