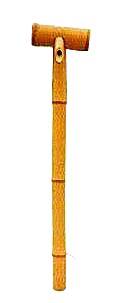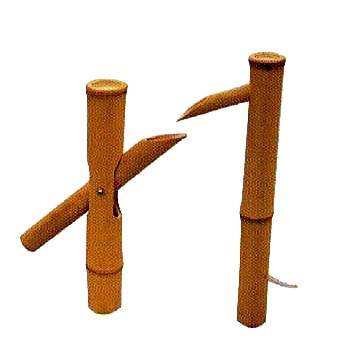 MBD-48 & MBS-14 (sold separately) MBS-24 MBD-38 MBS-18
Bamboo fountains have been used in Japanese gardens for centuries. Producing the peacful sound of dripping water, this unique piece will create an astonishing effect on your water garden that will heighten your senses.
Our bamboo spout MBS series or "Kakei" is designed to place over the edge of a pond, cedar water garden, or wine barrel water garden to create an instant beautiful natural fountain. This spout is handcrafted out of natural bamboo with a traditional Japanese spout that includes an inner liner of tubing for easy pump hookup.
The MBS series Shishi-odoshi or deer chaser was originally used by Japanese farmers to scare off deers and boars from crops. As the water flows from the bamboo spout or other water garden dripping fountain, the knocking portion fills and spills the water creating a rhythmic knocking sound as it hits a rock. Place at the edge of a pond or water garden, our deer chaser will create an eye catching fountain and provide a serene rhythmic sound. Our deer chaser TBS-48 and TBS-38 are hand crafted using the finest bamboo, with two legs and one leg support system. They will need a spout such as MBS-14, MBS-18, MBS-24 to work together as a set.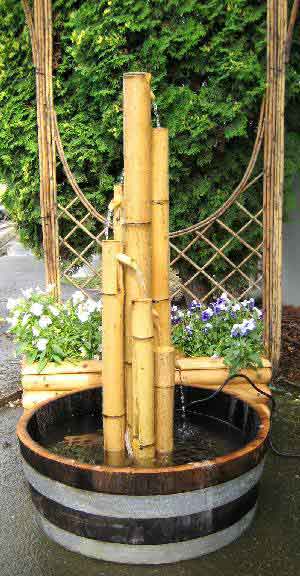 BF-18 Bamboo dripping poles, BF-9 BF-11
Our exclusive bamboo water garden BF self containing units do not require a tripping unit. The BF-10 Water Hammer is a dripping system where water drips from two upper spouts into the third bamboo section to unbalance it and empty the water into the pond. BF-9 works like the BF-10, except it has only one upper spout. The BF-11 consist of series of bamboo cups hung around the main bamboo post, so that the water will drip from one cup into another till it reaches the pond. BF-18 presents the beauty of the bamboo in its original form, it is self contain, all you need is a container and a pump.
Key Features
Not all bamboo are the same, we use the choice Muso Bamboo.

Our bamboo fountain, bamboo spout and Shishi-odoshi are hand banded with copper wire and traditional Japanese polyester string.

Different designs and features to suit your water garden needs.
Pricing & Purchase
| | | | | |
| --- | --- | --- | --- | --- |
| Item | Description | Price | Sizes | |
| MBS-24 | Tall Bamboo Spout, use ECO-264 pump | $28.35 + shipping | 35"H x 8"W | |
| MBS-14 | Bamboo Spout with support rack, use ECO-132 pump. | $22.35 + shipping | 20"H x 18"W | |
| MBS-18 | Bamboo Spout without rack, use ECO-132 pump. | $20.35 + shipping | 20"H | |
| MBD-38 | Bamboo Deer Chaser, Shishi-odoshi, self standing, do not need pump. | $22.22 + shipping | 20"H x 11"W | |
| MBD-48 | Bamboo Deer Chaser, Shishi-odoshi, do not need pump. | $28.12 + shipping | 24"H x 12"W | |
| BF-9 | 2 Tubes Bamboo water hammer, use ECO-132 pump. | $26.84 + shipping | 20"H x 18"W | |
| BF-11 | Bamboo dripping cups fountain, use ECO-132 pump. | $32.12 + shipping | 40"H | out of stock |
| BF-18 | 6 Bamboo Poles Cascading dripping fountain, use ECO-264 pump | 39.82 + shipping | 45"H | out of stock |
| ECO-132 | EC Plus Submersible Water pump, up to 132 gallon/hour, 4.3' lift. | $45.70 + shipping | 1.3"L x 2.2"W x 2.1"H | |
| ECO-264 | Submersible Water pump, up to 264 gallon/hour, 6.3' lift | $35.90 + shipping | 1.6"L x 2.8"W x 2.1"H | |