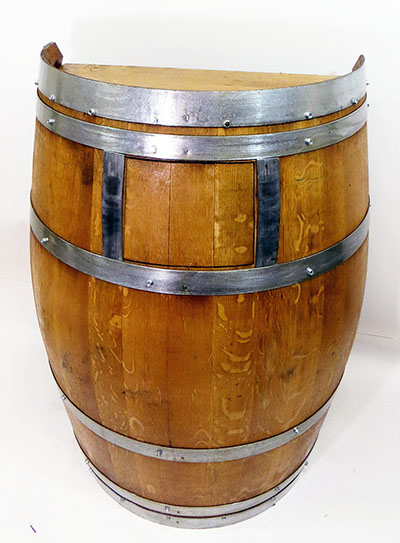 WWR-35H, Barrel Receptacle with flap door
This is our most popular compact barrel waste recepticle, it is exclusively our design with reclaimed half split used wine barrels. It is space saving and set up again the wall or any building structure. It will a hold a standard 12 gallons trash can and 15 gallon slim trash can . Self closing top push door 6" x 7". Optional caster for mobility.
Steel molding around disposal opening to help withstand the rigors of everyday use.Optional disposal opening with trap door keeps the waste concealed in the recepticle. Garbage bags can be taken out easily by moving the recepticle to reach the open back. Open back covered by plastic PVC liner curtain to contain garbage littering and smell.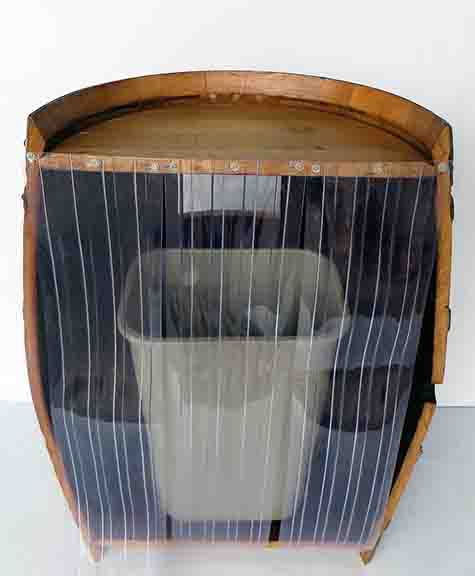 WWR-35HP, Barrel Receptacle with refuse disposal opening Back side with plastic curtain (waste basket is not included)
Key Features
Environmentally friendly from genuinely recycled wine barrels.

Uniquely looking receptacles are great for hospitality facilities and home gardens. Water tight barrels are great for outdoor and indoor uses.

Self closing top push door keeps the waste concealed in the basket. Trash bag can be easily removed from the service door in the back.

Overall dimension is 26" wide at mid section, 14" deep and 36" in height.

Each individual item's appearance and color tone may vary due to the reclaimed barrel material used in the product.

Metal molding around disposal opening for heavy commercial usage.

Plastic curtain at the back to contain waste basket and waste garbage.

Lacquer finished to enhance its beauty as well as for extra protection.
Pricing & Purchase
| | | | | |
| --- | --- | --- | --- | --- |
| Item | Description | Price | Sizes | |
| WWR-35H | Wine barrel waste receptacle with flap door. Lacquer finished. | $285.88 + shipping | 26"W x 14"D x 35"H | |
| WWR-35HP | Wine barrel waste receptacle. Lacquer finished. | $215.32 + shipping | 26"W x 14"D x 35"H | |