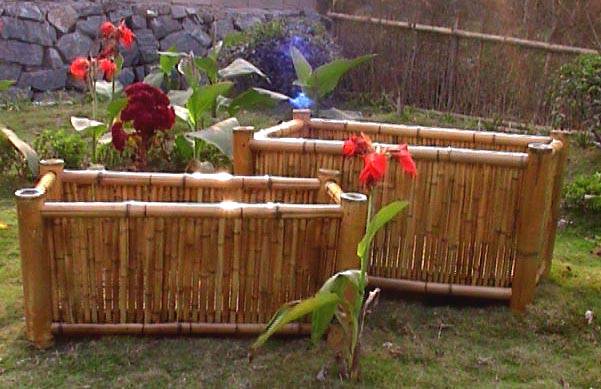 Square rectangle planter Bamboo square planter
Bamboo is a green building material because it is rapidly renewable. These gorgeous bamboo planters comes in a square or rectangular design. Create a tropical atmosphere in your home and garden!
Key Features
Constructed of all natural solid bamboo poles.

Glued bamboo dowels are used in every joint for holding strength, copper wire are tied into the frame poles to prevent the posts from further splitting.

Finished with natural bamboo oil for protection.
Pricing & Purchase
| | | | | |
| --- | --- | --- | --- | --- |
| BRP-48 | 48" Rectangle bamboo planter | $88.61+ shipping | 48'L x24"W x 20"H | |
| BRP-42 | 42" Rectangle bamboo planter | $69.41+ shipping | 42"L x20"W x 18"H | |
| BRP-36 | 36" Rectangle bamboo planter | $49.35+ shipping | 36'L x16"W x 14"H | |
| BRP-30 | 30" Rectangle bamboo planter | $36.12+ shipping | 30'L x12"W x 10"H | |
| BSP-26 | 26" square bamboo planter | $58.31+ shipping | 26"W x21"H | |
| BSP-20 | 20" square bamboo planter | $40.52+ shipping | 20"W x16"H | |
| BSP-16 | 15" square bamboo planter | $27.52+ shipping | 15"W x13"H | |