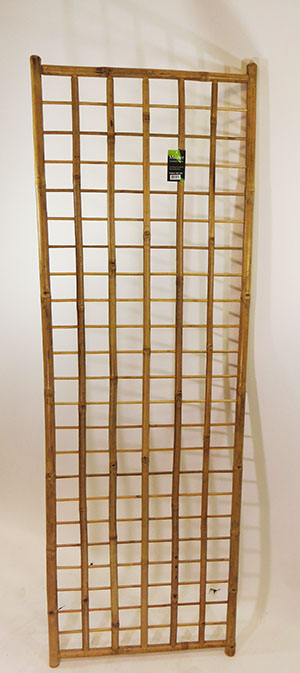 BGP-06, Show 3 pcs Bamboo Gridwall Panels BGA-12, BGA-16 with bamboo hanger
Perhaps one of the best ways to make maximum use of your existing retail space is via these versatile classic BambooGridwall™ panels. You can find grid wall display units in a variety of sizes—from 2 x 5 to 3 x 6. You can get hooks, shelves and connectors for your grid wall display. You can use them for many types of display using any standard gridwall accessories.
You'll find our classic bamboo grid wall panels that come in clear acrylic finished. Easy installation to the wall directly. Use our bamboo gridwall or any standard gridwall accessory.
Key Features
Better looking than the usual black metal wire mesh gridwall.

Original bamboo poles construction.

Ecology sustainable bamboo building material.

Compatible with all wire grid wire accessories.

Easy set up with simple tools directly to the wall.
Pricing & Purchase
| | | | | |
| --- | --- | --- | --- | --- |
| Item | Description | Price | Sizes | |
| BGP-07 | Classic Bamboo Gridwall Panel | $68.22 + shipping | 24"W x 84'H | |
| BGP-06 | Classic Bamboo Gridwall Panel | $58.22 + shipping | 24"W x 72'H | |
| BGP-05 | Classic Bamboo Gridwall Panel | $51.41 + shipping | 24"W x 60'H | |
| BGP-36 | Classic Bamboo Gridwall Panel | $67.32 + shipping | 36"W x 72'H | |
| BGA-16 | 7 Cubes Gridwall Waterfall | $7.37 + shipping | 16"L | |
| BGA-12 | Gridwall Face-out | $6.36 + shipping | 14"L | |