Related Products
Up
Carbonized Expandable Trellis Fence
Peeled Willow Circular Fence
Peeled Willow Dual Pattern Trellis
Peeled Willow Round Teepee
Peeled Willow Fan Trellis
Peeled Willow Funnel Trellis
Peeled Willow Teepee
Peeled Willow Lattice Fence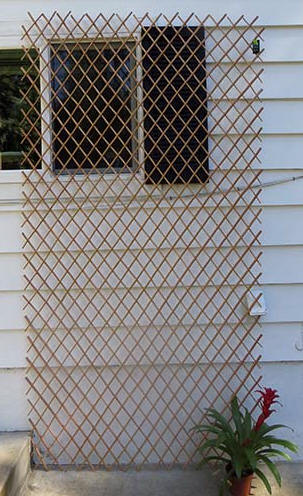 3' H willow lattice fence install vertically CWSF-72 set up at 4' wide and 8' high.
Our peeled willow flex lattice fence is very versetile, it can be installed as fence panel as well as divider to segregate certain part of your landscape. The diamond opeing trellis can be installed vertically or horizontally. It can be extend to your desire size and open pattern. Classic Willow flex lattice fence are perfect for training vines and vegetables, supporting tomatoes, and more. The light mohogany color peeled willow sticks used are about 1/4" to 3/8" thick that are held together with nails.
The height of our standard measurement in our pricing is when the fence is expend to 72" wide. The height may varies depending the width of your extension in practical use. We have a few different sizes for you to chose from.
Key Features
Expandable to different heights and lengths to suite your needs. Flexible enough to form a circle.

Use them as lattice fences, easy installation. Can be tie to supporting structure.

Providing elegant silhouette to your home and garden.

Skinless, steam processed and dry willow sticks used are about 1/4" to 3/8" thick.

We recommnad putting a coating of linseed oil or outdoor sealer to preserve peeled skin willow product in outdoor.
Item

Description

Price Pick your bundle discount after add to cart

Sizes

CWSF-36

Peeled willow lattice fence, open to 3" diamond opening.

single pc/ $17.51 + shipping
set of 2 / $34.31 + shipping
set of 4 / $67.93 + shipping

72"W x 36"H

CWSF-48

Peeled willow lattice fence, open to 3" diamond opening.

single pc/ $19.15 + shipping
set of 2 / $34.31 + shipping
set of 4 / $67.93 + shipping

72"W x 48"H

CWSF-60

Peeled willow lattice fence, open to 3" diamond opening.

$21.58 + shipping

60"W x 72"H

CWSF-72

Peeled willow lattice fence, open to 3" diamond opening.

single pc/ $25.21 + shipping
set of 2 / $49.99 + shipping
set of 4 / $98.97 + shipping

72"W x 72"H