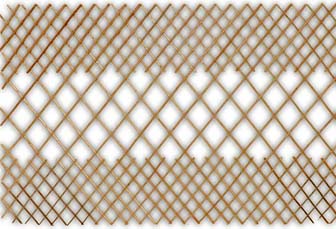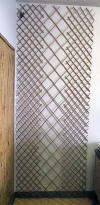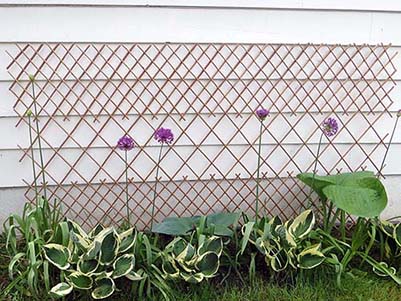 WCT-48F, Indoor 8' vertical to the ceiling In the garden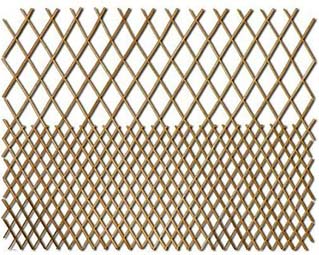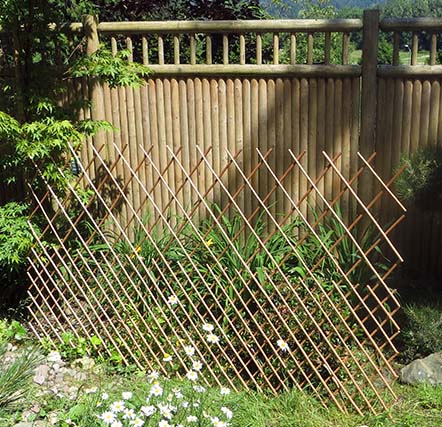 Top open pattern WCT-48T as walkway screen

Picket style WCT-48P Bendable WCT-48P form a circle in a rose garden
This is a new addition to our extensive line of expandable classic willow trellis lattice fence. They are made of peeled skinless willow sticks, light mahogany color, carbonized finished for outdoor use. Our dual pattern trellis have two different size diamond openings. It creates an elegant visual display in your garden backdrop. Can be folded and stored away when not in use and for easy transportation. Opens up to 4" high and 72" long.
All dual pattern expandable lattice panels can be installed in a semi-circular form, three sections of the fence can form about a 84" circle. WCT-48F middle open pattern may be set up vertically or horizontally to create a different pattern indoors and outdoors.
With wood post support you can use these expandable fences as a vegetable wall, vine climbing support, or simply as an ornamental backdrop in your outdoor setup. We recommend putting a coat of linseed oil or outdoor sealer to preserve the product in the outdoors.
Key Features
Expandable to different sizes diamond openings.

Handcrafted with no bark carbonized willow sticks.

Use them as fences, dividers, climbing plant support, or lattice trellis.

Rustic willow look for an informal garden setting.

Willow sticks used are about 1/4" to 3/8" thick.

Willow sticks used in the construction of these fences are from sustainable resources.

Can be stained with your own color.
Pricing & Purchase
Item

Description

Price Pick your bundle discount after add to cart

Sizes

WCT-48F

Classic willow middle open pattern flex fence

single pc/ $18.38 + shipping
set of 2/ $36.02 + shipping
set of 3/ $53.48 + shipping

72"W x 48"H

WCT-48T

Classic willow top open pattern flex fence

single pc/ $18.38 + shipping
set of 2/ $36.02 + shipping
set of 3/ $53.48 + shipping

72"W x 48"H

WCT-48P

Classic willow picket pattern flex fence

single pc/ $20.76 + shipping
set of 2/ $40.68 + shipping
set of 3/ $60.41 + shipping

125"W x 40"H