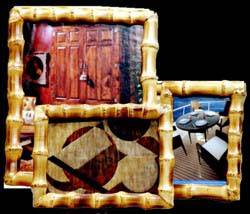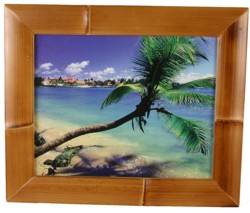 Bamboo root picture frame Bamboo plank picture frame
These unique bamboo photo frames are excellent to highlight your favorite pictures. Our Real Bamboo Root Picture Frame with glass are constructed with real bamboo root, processed naturally and flame torch finished. Designed to stand or hang either vertically or horizontally. Available in 4x6, 5x7, 8x10.
Bamboo plank picture frame uses machine cut bamboo planks, lacquer finished. Sizes available in 4x6, 5x7, 8x10.
Key Features
Natural bamboo material.

Excellent photo and picture frame.

Uniquely looking bamboo bamboo picture frame to bring a touch of nature to your setting.

Due side bamboo planks construction over cedar stringer in between the two poles, absolute safe and total privacy and neighbor friendly.
Pricing & Purchase
| | | | | |
| --- | --- | --- | --- | --- |
| Item | Description | Price | Size | |
| BPF-46R | Bamboo root picture frame | $13.81 + shipping | 4" x 6" | |
| BPF-68R | Bamboo root picture frame | $16.32 + shipping | 6" x 8" | |
| BPF-57R | Bamboo root picture frame | $16.32 + shipping | 5" x 7" | |
| BPF-810R | Bamboo root picture frame | $18.52 + shipping | 8" x 10" | |
| BPF-46P | Bamboo plank picture frame | $11.24 + shipping | 4" x 6" | |
| BPF-68P | Bamboo plank picture frame | $14.54 + shipping | 5" x 7" | |
| BPF-810P | Bamboo plank picture frame | $17.71 + shipping | 8" x 10" | |