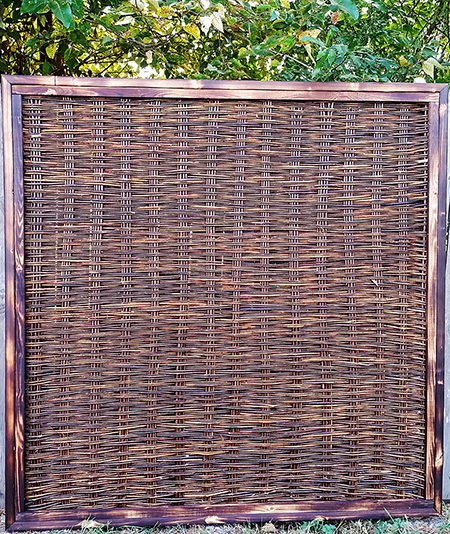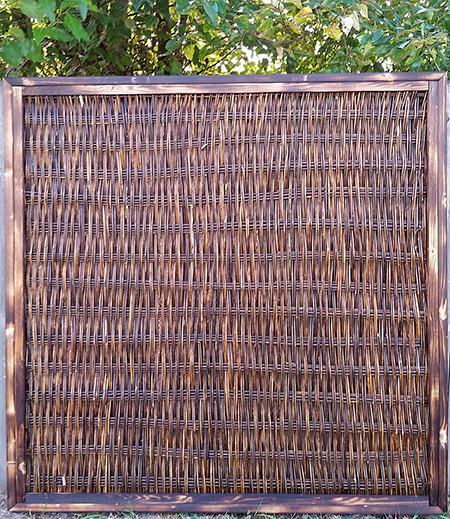 Wood framed willow fence panel WFW-66 in horizontal in vertical installation
These teak wood and metal pipe framed willow hurdle fence panel is one of our newer additions to our willow panel collection. Classic wood framed willow hurdle panel can be installed easily like any other wood fence panel. The black metal pipe frame matches the color tone of the willow. Half inch metal pipe with hooks and eyes setup. Easy to install, just secure the panel to the posts of your fencing to complete your desired design.
Can be installed with vertical or horizontal woven pattern to suit your taste.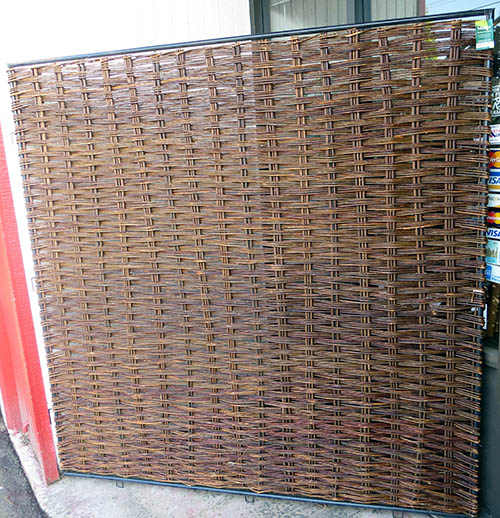 Metal framed willow fence panel MFW-66 shown in vertical pattern
Key Features
Wood or Metal framed willow hurdle panel comes in a natural dark brown tone.

2 x 4 cedar wood framed with brown flame toss finished or metal rod framing.

1/2 inch black metal pipes with hooks and eyes setup.

Easy installation.
Pricing & Purchase
| | | | | |
| --- | --- | --- | --- | --- |
| Item | Description | Price | Size | |
| MFW-66 | Metal framed willow hurdle fence panel | $188.56 + shipping | 72"W x 72"H | |
| WFW-66 | Wood framed willow hurdle fence panel | $188.56 + shipping | 72"W x 72"H | |
| WFW-46 | Wood framed willow hurdle fence panel | $127.42 + shipping | 48"W x 72"H | |
| WFW-64 | Wood framed willow hurdle fence panel | $127.42 + shipping | 72"W x 48"H | |