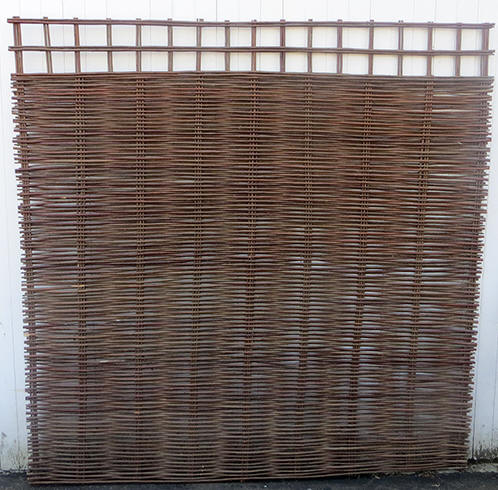 WLP-66S, Willow Lattice Top Panel, 6' x 6' WLP-63S Willow Lattice Top Panel
We have created a full line of pre-built, bentwood willow fence panels for those of you who want to build beautiful natural looking fences with minimum effort. Stunning variety of styles and sizes to choose from to suit your fencing needs.
The elegant lattice top fence panels are exclusively our own design. The reddish brown color of the natural willow will blend right into your garden setting. Use them to build up a fence or to divide a section of your home or garden.
Key Features
Natural bentwood willow is excellent material used fencing in the outdoors or indoors.

Pre-built willow fence panels can be set up on any type of fence posts, just tie them to the support posts using galvanized wire or screws, if you are using screws or nails, please make sure you pre-drill the pilot holes first.
Retail Pricing
Item

Description

Price

Size

WLP-63S

Lattice willow top fence panel

single pc/ $56.87 + shipping
set of 2/ $91.86 + shipping
set of 3/ $137.79 + shipping
set of 4/ $181.85 + shipping

36"W x 72"H

WLP-66S

Lattice willow top fence panel

single pc/ $96.87 + shipping
set of 2/ $170.36 + shipping
set of 3/ $255.39 + shipping
set of 4/ $337.05 + shipping

72"W x 72"H