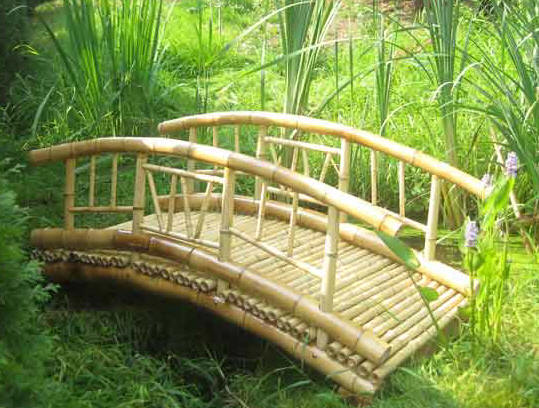 Tiki double rail Bamboo bridge, 5' Long, TIB-5
Our bamboo garden bridges are designed to be the focal point of your garden, and the double arc cross span with elegant side rails bring structural stability and beauty. Cedar wood blocks on both landing ends of the bridges separate the bamboo from the ground, thus prolonging the life span of the bridges.
Tiki bamboo bridges are built by the most experienced bamboo crafters under our supervision. We use only mature bamboo posts and all materials that are used are processed to maintain high quality and structural stability of the bridges.
The decks are made of 2' bamboo posts while the two main span are of heavy 5" diameter poles. Easy assembly, with bolt and nut fasteners, the whole package contains two pre-assembled side rails, a row of bamboo decking, arc shape cross span, and supporting braces at the bottom.
Download Manual for 8'/10' Tiki Bamboo Bridge

Key Features
Made of heavy bamboo poles. Double pole span for heavy load capacity.

All holes are precisely drilled for easy installation and set up. Bolt and nut fasteners are rust proof.

Cedar wood block at both ends of the bridges to separate the bamboo from the ground. Supporting bamboo braces underneath the bottom of the bridges adds additional support.

Features wide pathway deck from a 26" for a 5' bridge to a comfortable 36" for a 10' long bridge.

Unique bamboo bridge with elegantly designed hand rails is perfect for your garden, on dry beds, streams or ponds.
Pricing & Purchase
| | | | | |
| --- | --- | --- | --- | --- |
| Item | Description | Price | Sizes | |
| TIB-5 | 5' Double rail Tiki bamboo bridge | $298.15 + freight | 20"W x 20"H x 60"L | |
| TIB-4 | 4' Double rail Tiki bamboo bridge | $218.65 + freight | 26"W x 20"H x 48"L | |