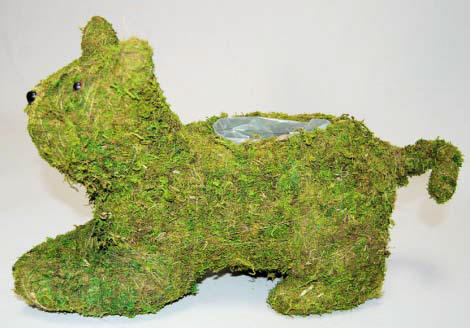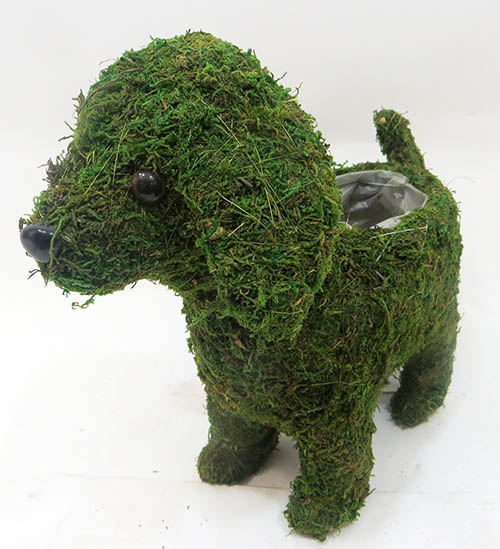 Cat topiary basket, MCP-14 Dog topiary hanging moss basket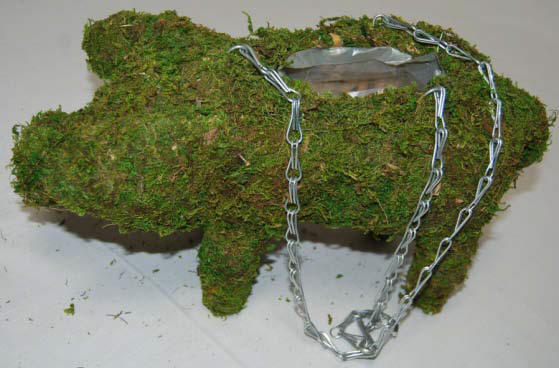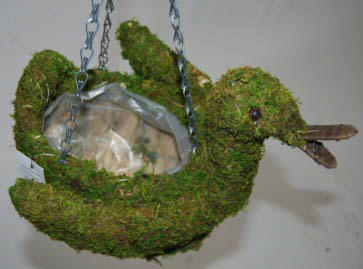 Piglet topiary hanging moss basket Duck topiary hanging moss basket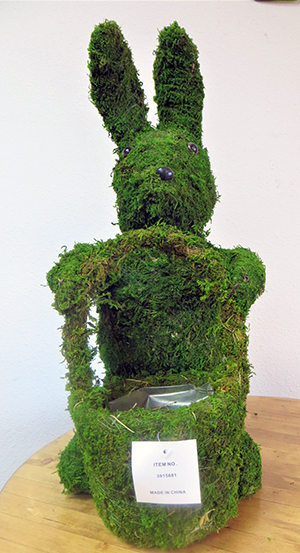 Eater rabbit with moss basket TSR-20M TSR-12M
Our animal moss topiary basket planters are made of a wire frame, covered in line with moss. Great for indoors and outdoors. Our line of animals includes: piglet, duck, frog, or cat topiary basket, some of them comes with a hanging chain so you can use them as a hanging planter.
Bring fun to your home and garden with these adorable planters!
We recommend you to cut a hole in the plastic liner of the basket if used outdoors for drainage.
Key Features
Fun designs to choose from that will enhance and bring light to your home and garden.

Excellent for indoor and outdoor planting.

Galvanized wire frame to add strength and support to the hanging basket.

Plastic liner inserted.
Pricing & Purchase
| | | | | |
| --- | --- | --- | --- | --- |
| Item | Description | Price | Sizes | |
| TCP-14M | Moss Cat Topiary Planter | $8.82 + freight | 14"W x 10"H | |
| TPP-14M | Moss Piglet Topiary Planter, hanging chain included. | $7.88 + freight | 13"W x 7"H | |
| TDP-14M | Moss Duck Topiary Planter, hanging chain included. | $7.88 + freight | 12"W x 9"H | |
| TTP-15M | Moss Dog Topiary Planter, | $11.28 + freight | 15"W x 12"H | |
| TSR-24M | Moss Standing Eastern Rabbit Topiary Planter, 24" tall | $29.28 + freight | 24"H x 12"D x 12"W | |
| TSR-20M | Moss Standing Eastern Rabbit Topiary Planter, 20" tall | $23.28 + freight | 20"H | |
| TSR-12M | Moss Sitting Eastern Rabbit Topiary Planter, | $13.13 + freight | 12"H x 6"W | |