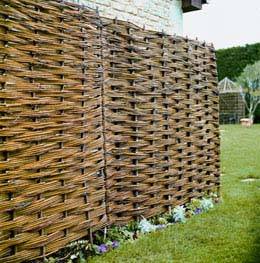 Willow is a woodland shrub which when you cut down sends up lots of useful shoots. After eight years, these are ready to be coppiced or cut again yearly to be used in willow hurdles and rolled fences. Willow fences are considered to be a green and ecologically sustainable fencing material because it is rapidly renewable as it grows on non-food productive lands that will not compete with other food source supplies.
Willow, while found naturally in the woods, are usually grown in planted areas called 'osier beds'. As with hazel when you cut it down it sends up lots of shoots which are typically cut for use every 1-2 years. Areas such as river valleys have osier beds in where willow likes to grow.
The classic rustic fence made from willow is excellent as a windbreaker, and for screening and dividing certain areas in your yard. If they are well cared for they will last for about ten years. There are different types of willow fences in the market, the most common one is the willow rolled fence, this is pretty much a DIY fencing material which allows you to install your fencing easily. It is flexible and can turn corners easily, simply tie them to the post with wire. If you are looking for a pre-built willow fence panel you can go for the traditional English hurdle panels or the more modern style of panels. You can also buy a rolled willow fencing and a custom wooden fence structure to fit your own size.
What is a willow hurdle?
Fence panels of woven willow hurdle panels have been used for centuries in European countries. They are the ideal instant windbreaker which are less likely to be blown down than sawn-lap panels. They also give an attractive rustic appearance particularly effective in less formal settings.
Care and Maintenance
· In windy situations, a third stake in the middle of the fence panel reduces damage from flexing in the wind.
· Regularly check posts to make sure they are secure. This will help to reduce damage from flexing.
· The first place hurdles will rot is on the twists around the end posts. These twists are necessary to stop the end posts from falling out and a 'good' hurdle will have frequent twists.
· A non-creosote preservative will help them to last longer in the outdoors.
Buying Willow fencing
The standard size of willow hurdles are six feet by three, four, five or six feet high. Most makers will offer a range of other wattle products for the garden and will make panels to any size you wish.
Willow rolled fencing comes in rolled form. To install them just unroll the fence and tie them to the posts or the chain link fence that will support them. It is a common and inexpensive way to hide an unwanted metal fence in your property.