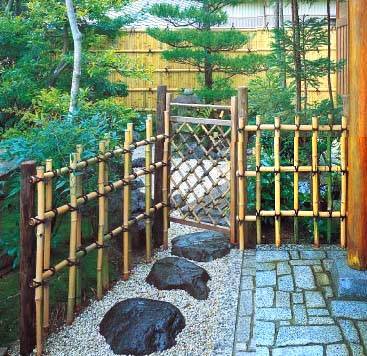 3' height Yatsume-gaki pedestrian fence
This lattice, or 'four-eyed', fencing is one of most popular lattice fence in the Japanese garden, it is easy to build, you can do it in half a day with simple tool.
If you do not have the time you can get them pre fabricated form us in our Japanese Bamboo Fence product line.
What you'll need
| | |
| --- | --- |
| | fence posts (about 1m long) |
| | 2.5cm to 4cm (1in to 1.5in) thick bamboo canes; the vertical lengths should be around 1m (3.3ft) long and the horizontal lengths around 1.8m (6ft) long |
| | fine-toothed saw |
| | 5cm (2in) screws |
| | screwdriver |
| | drill |
| | black string |
| | lump hammer |
| | spade |
Step by step
1 Position the main fence posts about 1.8m (6ft) apart. They'll be used to support the bamboo canes. For a fence that's to be about 1m (3.3ft) high, dig a hole around 40cm (1.3ft) deep and secure the posts by backfilling with soil to make them secure.
2 Cut the edges of the horizontal lengths of bamboo diagonally so they sit flush against the fence posts.

3 Drill a hole in the horizontal lengths of bamboo to prevent the cane from splitting.

4 Position the horizontal lengths in twos and screw to the supporting fence posts.

5 To ensure the rope won't shrink once tied to the fence, soak it in water for a couple of hours before you use it.
6 Tie a piece of string from the top of one supporting fence post to another. This will help you make sure the tops of the vertical bamboo canes are level.
7 Cut the vertical lengths of bamboo to size, making sure there's a knot within the cane at the top of each piece. This will seal the bamboo cane and stop it filling with rain water.
8 In twos, space the vertical canes evenly along the fence.

9 Use the black string to tie the vertical canes to the horizontal ones. Cross the string over at the front of the fence.
10 Tie at the back.

Ken nin ji yaki privacy fence - this kind of fencing is used for boundaries around Japanese gardens. It's much more robust than four-eyed fencing. This style is based on the fencing used at Ken Nin Temple.