West Arbor Framed cedar trellis
Our arbor line is constructed with White Cedar wood and bamboo, we use 2" x 4" whenever possible, all side panels are recessed cut to offer a great finished look. Most pieces are pre-assembled for easy setup. We have a few distinctive designs.
We have various types of trellises, the Estate, Villa and the regular open trellis, all constructed with white cedar. Our exclusively new Estate and Villa trellises are framed with the option of fixtures built on to them. Similar products that you may want to look at as well are our bamboo trellises.

Cedar Wood West Arbor Cedar wood North Arbor
.Popular traditional arbor Heavy duty yet elegant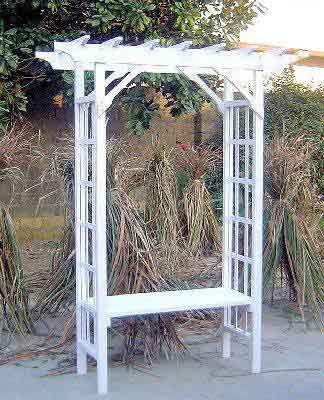 Cedar Wood South Arbor Cedar Wood Estate Trellis Fences
White arbor with seat Framed trellis fencing


Cedar Wood Villa Trellis
Framed trellis with designs