Full circular tree bench with no back support in a public park.
The circular tree bench without back support is designed to go around a tree or other structures in the garden to provide a comfortable seating area. The bench is constructed with northern white cedar wood and finished with clear outdoor wood sealer.
Two sizes is available, 66" or 78" wide, goes around a tree from 30" diameter to 42" respectively.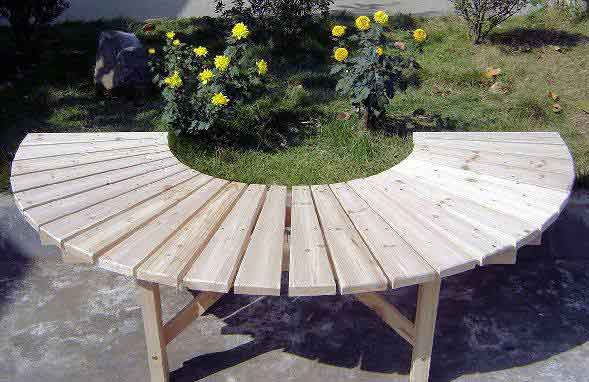 natural finished half round tree bench
Download Manual for Standard 4 Posts Seated Raised Bed

Key Benefits:
Circular tree bench without back support. Comes in sections and can be easily mounted together with screws.

You can use them to surround a tree or just half a tree if your space is limited.

Constructed with white cedar wood, heavy duty 3x3 for the frames and 1x4 for the seat and back support.

Our tree benches are semi-assembled in our factory for integrity and quality. Some assembly is required.
Key Features
| | | | | |
| --- | --- | --- | --- | --- |
| Item | Description | Price | Sizes | |
| CCTB-96 | Full circular tree bench 78" overall width, inside diameter 42", Total four sections. Bench width 18" | $298.31 + shipping | 78"L x 78" W x 18"H | out of stock |
| CCTB-48 | Half circular tree bench 78" overall width, inside diameter 42", Total two sections | $168.31 + shipping | 39"L x 78" W x 18"H | out of stock |
| CCTB-84 | Full circular tree bench 66" overall width, inside diameter 30", Total four sections | $263..69 + shipping | 66"L x 66" W x 18"H | out of stock |
| CCTB-42 | Circular half tree bench 66" overall width, inside diameter 30", Total two sections | $152..69 + shipping | 33"L x 66" W x 18"H | out of stock |