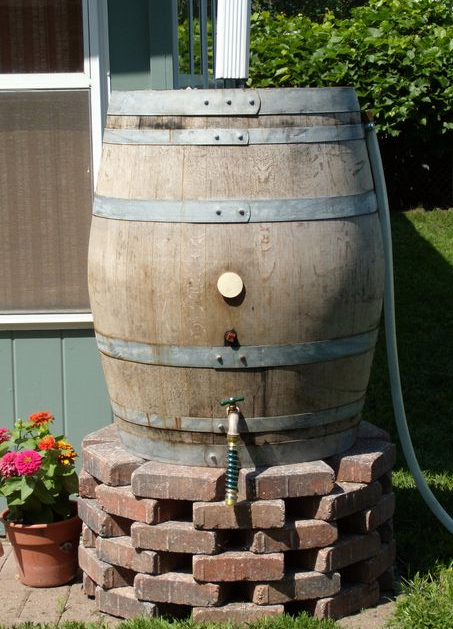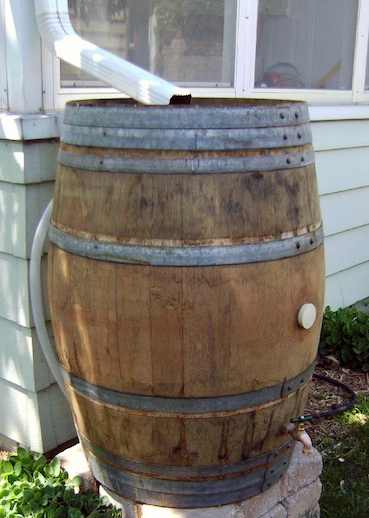 Rain Barrel with top intake opening, faucet extension and garden hose is not included
For water conservation in your community, we recommend you to use our rain barrels in your home to help conserve our natural resources. Our 52 to 60 gallon rain barrels are made of recycled water tight wine barrels that can also be used as a plant stand when rain is not expected by simply closing the top of the barrel.
Collected water awaits your plants at favorable temperatures rather than cold well water. It is not chlorinated or treated with chemicals as most municipal water supplies are. Water needs of today are quickly closing in on available supplies. Our vineyard oak wood rain barrel enables the user to gather and draw upon their own renewable water resources and conserve our natural water supply.
At the rain collection area, a screened opening minimizes insect entry into the barrel while filtering debris from incoming water. You don't need to switch a diverter during a downpour with our rain barrel. An overflow hose, located at the top/back of the barrel, designates the direction of excess water to flow. It can be replaced with a hose of longer lengths, to divert overflow to a garden or distant runoff area.
Click here to learn more about wine barrel care, maintenance and procedures.
Key Features
Our rain barrels are made of recycled oak wood wine barrels into functional and elegant looking rain barrels that will blend right into your garden.

Designed to take in rain water from your down spout for watering your garden. Auto overflow is at the back of the barrels to guide the excess rain water to extra barrels or you can connect it to a hose into your garden or distant run off area.

Brass spigot at the lower section of the barrel to connect to a garden hose.

The top of the barrel can be used as a plant stand. Use a potted plant with the rain water intake hole closed or open.
Pricing & Purchase
| | | | | |
| --- | --- | --- | --- | --- |
| Item | Description | Price | Sizes | |
| VRB-60 | Rain barrel | $198.25+ shipping | 27"W x 35"H | |