Related Products
Up
Oblong Hyacinth Tray
Round Hyacinth Tray
Boat Shape Hyacinth Tray
Rectangle Hyacinth Tray
Round Hyacinth Bowl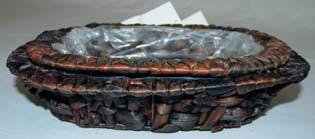 Shallow Oblong Water Hyacinth Tray with rim
Stay organized without sacrificing style by using the Master Garden Products Green tray basket bin. This water hyacinth tray basket offers an attractive way to keep your fruit, bread, and others. It designed with a rim around the tray.
Large: 11" L x 7" W x 3" H

Medium: 10.5" L x 5.5" W x 2" H
Key Benefits:
Constructed with all natural water hyacinth.

No assembly required.

It comes equipped with plastic liner.
Key Features
Item

Description

Price

Sizes

SOT-11

Oblong Hyacinth Tray

$5.51 + shipping

11" L x 7" W x 3" H

SOT-10

Oblong Hyacinth Tray

$3.73 + shipping

10.5" L x 5.5" W x 2" H

SOT-SET

Oblong Hyacinth Tray

$7.50 + shipping

10.5" L x 5.5" W x 2" H
11" L x 7" W x 3" H