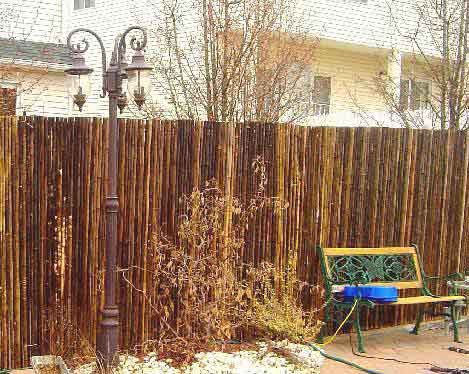 Black bamboo fence in outdoor Black bamboo fence hang on ceiling
Black or tiger bamboo, as it is often called in Asia, is one of our most beautiful bamboo material. Like other forms of black bamboo , also known as, Phyllostachys nigra, the culms are green when they first emerge from the ground. Within months they acquire the natural black color with darkish-brown patches that gives this bamboo such a distinctive appearance. The culms of this bamboo are used extensively in Japanese woodworking. They are prized in teahouses.
Our big pole black bamboo fences are strung together with galvanized wire, the fence is almost opaque, perfect for privacy fencing. The poles used are about 1/2" in diameter.
For information on installing bamboo rolled fences, please click here.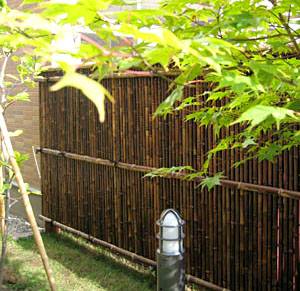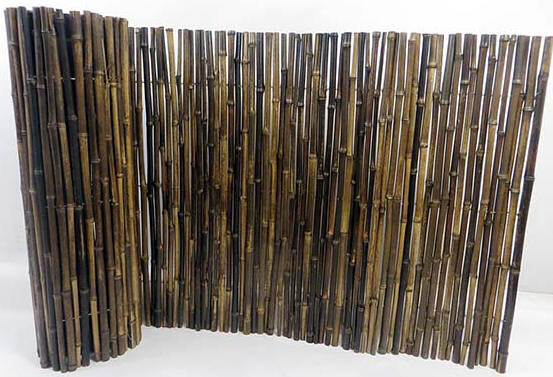 Black bamboo fence with optional caps Black bamboo 3' high
Key Benefits
We use three years old mature black bamboo poles for long lasting fences, will last up to 20 years. Bamboo poles used are around 3/4" in diameter.

Thick wall black bamboo poles will outlast any other type of bamboo as they are stronger and more durable.

Every individual black bamboo pole is trilled and strung on heavy galvanized wire so you don't see the wire. Heavy galvanized wire will not rust in the outdoors.

Bamboo poles used in our fences are cleaned and torch finished with high temperatures to bring out the luscious shine of the natural bamboo oil.

Optional black bamboo cap and half split black bamboo stringers are available for a finished look.
Pricing & Purchase
| | | | | |
| --- | --- | --- | --- | --- |
| Item | Description | Price | Sizes | |
| BBF-8 | Big Poles Black Bamboo Fence, | $145.21 + shipping, please contact us for discount freight for 6 rolls& over | 8'L x 6'H | out of stock |
| BBF-4 | Big Poles Black Bamboo Fence, | $118.32 + shipping, | 8'L x 4'H | out of stock |
| BBF-3 | Big Poles Black Bamboo Fence, | $94.32 + shipping, | 8'L x 3'H | |
| BBF-2 | Big Poles Black Bamboo Fence, | $62.45 + shipping, | 8'L x 2'H | |