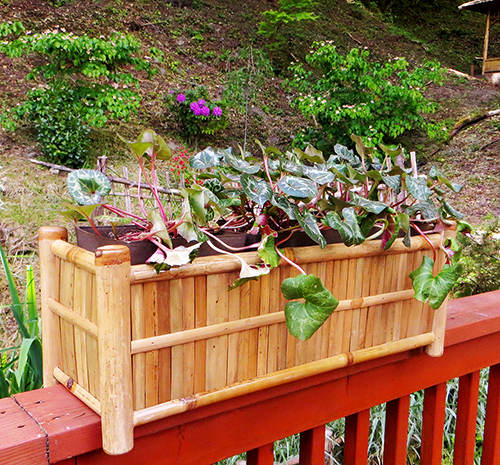 BWB-48, Bamboo Rail Planter on standard 1x6 handrail top.
Decks are a commonly used outdoor living space. These hand rail mounted bamboo planters will surely enhance your deck or patio with its natural, vibrant cedar wood color, and simple design.
Our bamboo deck planters can rest on top standard sized 1" x 6" deck rails and be secured with screws. It can also serve as a space saver. You may secure the planter onto the hand rail top using the wood screws. We used crack resistent Calcutta bamboo for stength and longivity of the planter. Plastic liner is stapled inside to prevent rot.
Key features
Comes in 60" and 48" length. 9" high and 9" wide, sitting on 5 3/4" which is the actual standard width of the 1" x 6" rail top.

Hand crafted with sustainable bamboo material.

Deck planters are finished with wood outdoor sealer which gives you the most stable natural outdoor protection you can get.

Fully assembled, no assembly is required.

Finished with outdoor sealer to protect from outdoor elements.
Pricing & Purchase