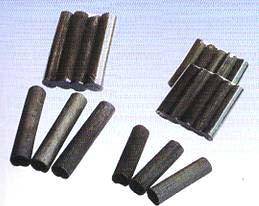 Hang it in your closet Bamboo Charcoal stick
Bamboo charcoal have been widely used in Japan, Korea, and China for many years. In Japan it is call Takesumi or Chikutan. Bamboo charcoal contains many pores and gaps in its structure, making it excellent for absorption, electromagnetic shielding, and infrared emmission. The carbonization temperature contributes mostly from the bamboo charcoal's properties. The temperature used in carbonizing bamboo charcoal will affect its absorption capacity of methanal, benzene, methylbenzene, ammonia, and chloroform.
Besides absorption, bamboo charcoal is also known to be antibacterial and antifungal. Japanese scientist also researched and found that bamboo charcoals generate negative ions. The infrared rays emitted constantly from the charcoals reduce moisture in the air into fine particles that naturally change into negative ions. This means that a certain amount of moisture must be present in the air for the bamboo charcoal to be used to increase the room's negative ion ratio.
Bamboo charcoal products are used to purify and eliminate odors in your closet, room, refrigerator, etc. They are reusable after washing and drying.

Bamboo Charcoal Closet Air Freshener Bamboo Charcoal Refrigerator Freshener