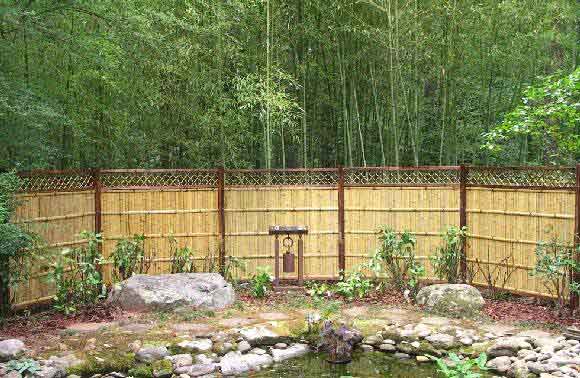 Bamboo panel WBL-66 with lattice top installed picture provided by a satisfied customer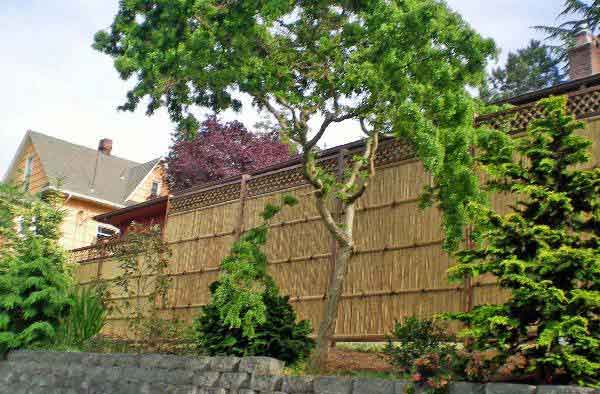 Combination of WBL-66 and WBF-46 picture from a project in California
Our new line of commercial grade big pole bamboo fence panels are constructed with one inch and over bamboo poles. They can last as long as 20 years, almost as durable as permanent fence structures. Extra long 20" footing at the base allows installation into the ground. The depth of the footing can be adjusted by raising or lowering the overall height of the panels.
These panels are constructed with pre-fabricated 2x4 white cedar wood frames. The structural wood frame holding the fence is constructed with mortise-and-tenon joints and secured with wood screws. We use a traditional Japanese technique to carbonize the wood frame for further outdoor protection, transforming the wood into a antique brown tone.
There are three designs to choose from, the bamboo lattice top, square lattice top or the full bamboo panel. All designs provide wood and bamboo stringers on either side to alternate panels. Both fence panels come in the sizes of 6'H x 6'W and 7 1/2'H x 6'W (measurement for panel, 20" leg footing not included), these items are only shipped via motor freight line.

WBF-66, full bamboo panel 6'x6' full bamboo panels WBF-66 install in a customer home
Key Features
Pre-fabricated big pole bamboo fence panels with wood frame makes it easy to construct professional grade bamboo fencing.

Heavy mortise-and-tenon joinery are used when constructing the wood frame holding the bamboo panel.

20" footing for setting into the ground.

White cedar is processed with a traditional Japanese technique of flame torch carbonizing to prolong the life of the bamboo fence panels.

Wood and bamboo stringers on either side to alternate panels.

All wood framed are carbonize finished in a dark brown color tone, all bamboos are naturally processed for extra protection.

Custom build panel, delivery time 1 to 2 weeks.
Pricing & Purchase
Item

Description

Price

Sizes

WBL-66

Big pole bamboo fencing panel with lattice top

$222.47 + shipping* please contact us or call for discounted freight for 3 panels & over

6'H x 6'W

WBL-67

Big pole bamboo fencing panel with lattice top

$277.27 + shipping* please contact us or call for discounted freight for 3 panels & over

7.5'H x 6'W

WBF-66

Big pole full bamboo fencing panel

$206.97 + shipping*
please contact us or call for discounted freight for 3 panels & over

6'H x 6'W

WBF-67

Big pole full bamboo fencing panel

$256.31 + shipping*
please contact us or call for discounted freight for 3 panels & over

7.5'H x 6'W

WBS-68

Big pole bamboo fencing panel with square lattice top

$228.22 + shipping*
please contact us or call for discounted freight for 3 panels & over

6'H x 6'W