Our product line consist of a few different categories with a variety of designs and sizes to choose from. Our line of indoor and outdoor products include planter boxes, fences, garden accents, furniture, commercial display products, and accessories. Our gorgeous and naturally rot resistant white cedar and plantation teak wood products make great outdoor and indoor products for both the residential and commercial.
Although bamboo is classified as grass, they are as elegant and as strong as the most durable types of wood. Bamboo is a rapidly renewable material, as the stems can be harvested repeatedly from the same plant for 2-5 years. There are many different species of bamboo, several of which are used in buildings and outdoor structures. Our bamboo line of products include outdoor gardening, fencing, furniture, commercial display products, and bamboo building materials. We use Moso, Calcutta, and Java Black bamboo in our product line.
Bentwood material like the willow branches and peeled willow canes used in our willow garden products, grows quickly and are individually hand collected by craftspeople from local forests and plantations. Willow sticks are a rapidly renewable material and are harvested in a sustainable way from managed willow plantations. Our classic peeled willow products are constructed with carbonized, steam dried willow sticks which will resist decay in harsh outdoor environments. Its light mahogany color and clean wood-like character makes them great for outdoor gardening.
Natural materials like moss, sea grass, rattan, and water hyacinth, are from sustainable resources. We use them to make our indoor planter containers and household, storage and organization product line.
Additionally, in the spirit of recycling to conserve our natural resources, we introduced our oak wood wine barrel line. We recycled these wonderful premium French and American oak barrel staves into an elegant, one of a kind, product line for both the indoors and outdoors, while still retaining the beautiful and fine taste of the aged winery in which it originated form.

Bamboo garden products Willow garden products
Green and Ecologically Sustainable
We want to incorporate the natural beauty of wood into our line of products. We acquire our cedar and teak wood material from proven sources which are certified to practice responsible woodland management.
Willow grows rapidly on non-prime agricultural land and on poor drainage soil. They bring subsistence resources to farmers and jobs to villages. Our newest addition of classic willow garden products brings more choices and styles to our willow garden line.
The bamboo's ability to grow on marginal and waste lands along with their rapid growth, low-cost extraction, processing, and multi-functionality, gives them an important role as a necessary resource for rural communities. Rapidly renewable resources like bamboo can grow even on steep hills, which in then can prevent erosions and conserve soil, as well as reduce carbon dioxide levels in the atmosphere to help slow down global warming.
We have a line of indoor household storage and organization products that are handcrafted from natural material that are vastly sustainable due to thier fast growing rate and from the by products of the haverted plants; like water hyacinth, banana trunk, maize.
We also recycle used oak wood wine barrels into a series of unique planters, furniture, and other uses for your home garden.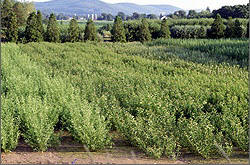 Bamboo Plantation Willow Plantation